The Wolverine DVD: Release Date & Bonus Features Announced
by Joel D Amos at . Updated at . Comments
The Wolverine has got a DVD and Blu-Ray release date, and it's just in time for the holiday season. The latest adventure of Hugh Jackman and his alter ego Logan/The Wolverine lands December 3 and will also be available on Digital HD. As shown in The Wolverine trailer, the action takes place in Japan and features Jackman truly commanding the role that made him a star with 2000's X-Men.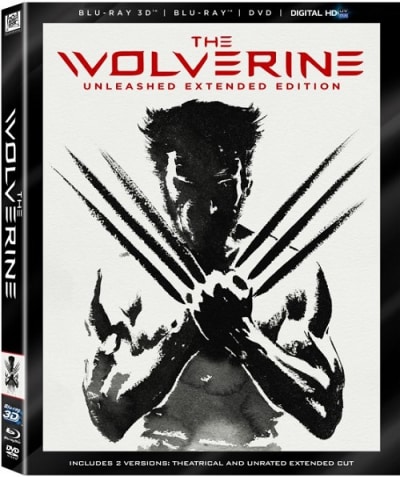 In fact, The Wolverine is the biggest blockbuster in the X-Men franchise. It banked over $371 million globally.
The adventure begins in World War II Japan where our reluctant hero is a prisoner of war as one of the atomic bombs hit. He saves the life of one of his captors, then the story fast-forwards decades later and takes us firmly into the X-Men world that will be further explored in next year's X-Men: Days of Future Past.
As we stated in our The Wolverine review, this is one fantastic film and one we clearly are excited to own permanently in our home video collection.
The extras run the gamut and promise to be among those that fans of Marvel will dissect repeatedly for not only insight into one of their favorite characters, but also secrets of the series that shows no signs of slowing down.
The Wolverine will be available December 3 in a four-disc Blu-Ray Unleashed Extended Edition and a two-disc Blu-Ray/DVD and Digital HD combo pack.
The Wolverine Unleashed Extended Edition Features:
The Extended, Unrated Cut – the first for the X-Men franchise!
The Wolverine Unleashed – more violent and hardcore than ever before
The Path of the Ronin – an immersive feature following the journey of a hero without a past
Alternate Ending
Audio Commentary by Director James Mangold (only on the unleashed extended)
Sync with The Wolverine Second Screen App for an interactive Second Screen experience
X-Men: Days of Future Past Set Tour
Theatrical Trailer
The Wolverine Blu-Ray Features:
Alternate Ending
X-Men: Days of Future Past Set Tour
The Path of the Ronin – an immersive feature following the journey of a hero without a past
Sync with The Wolverine Second Screen App for an interactive Second Screen experience
Theatrical Trailer