Unbroken First Look: Angelina Jolie is a "Human Dynamo"
by Joel D Amos at . Updated at . Comments
Universal has debuted a first image of Unbroken director and producer Angelina Jolie with her film's subject, Louis "Louie" Zamperini. The film, based on Laura Hillenbrand's bestselling book Unbroken: A World War II Story of Survival, Resilience, and Redemption, is currently filming. It follows Zamperini's life story as he became not only a war hero, but one of the world's best runners.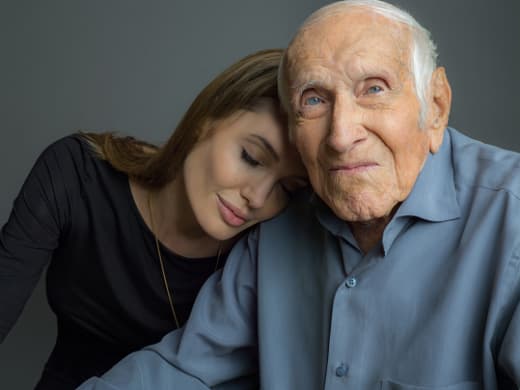 Unbroken was supposed to be Tony Curtis' follow-up picture to Spartacus. So, this is a story that has been in the making since 1957! Zamperini and Jolie became friends as they are neighbors in the Hollywood Hills, and the subject of her film could not be more thrilled that fate has given her to bring his story to life.
"Angelina is a human dynamo, and I know she will tell this story in the right way," Zamperini said in a statement. "I've received so many letters and talked to so many people who say that Laura's book has helped them when they were going through hard times. I believe the movie will reach even more people with that message."
Jolie herself is humbled to tell his tale. "It will be hard to make a film worthy of this great man," Jolie said.
"I am deeply honored to have the chance and will do all I can to bring Louie's inspiring story to life. Everyone involved in the film shares this deep responsibility. Like all readers of Laura's book and all people who love and admire Louie, I am a fan who has learned so much. He has made me a better person."
Unbroken is shooting in Australia with Jack O'Connell portraying Zamperini.