Two dramatically different movies arrive at cinemas this weekend. Our Weekend Movie Preview takes a look at Ridley Scott's latest, The Counselor, and the newest edition to the Jackass world in Bad Grandpa that has much more heart than one would ever expect.
Bad Grandpa: Knoxville is Irving Zisman, an 86-year-old man who has just lost his wife. Oh, he's not crying. In fact, he's ready to get out there and start dating again. The only issue is his delinquent daughter has left him in charge of her eight-year-old son Billy. Billy should probably be with his dad, who lives across the country in North Carolina. So, Grandpa and Billy get in the car and hit the road. The film is pure Jackass, sure, but it also is extremely heartwarming. And as our Bad Grandpa review points out... you may even tear up at the end. Yeah, seriously! 
The Counselor: Scott returns to the directing chair for the first time since Prometheus in a film that is about as far from any he has done prior. The story is written by No Country for Old Men author Cormac McCarthy, and the Texas tale shares absolutely nothing with that Oscar-winning film from the Coen brothers, other than its writer. Scott has a killer cast, including Brad Pitt, Cameron Diaz, Michael Fassbender (as the title character), Penelope Cruz and Javier Bardem and uses them wisely. For more, check out our The Counselor review.
Since there are only two films debuting, we give you a few more options for your weekend movie choices!
Also in theaters:
Gravity: The film that has been topping the box office for the last three weeks should keep on chugging. We're guessing Bad Grandpa will take the B.O. this week, but look for Gravity to stay strong. Sandra Bullock astounds in a story that must be seen on IMAX 3D to truly appreciate its mastery. Afonso Cuaron, as our Gravity review stated, should be easily looking at an Oscar nomination for this brilliant piece of work about a couple of astronauts who become detached on a spacewalk and must fight to survive.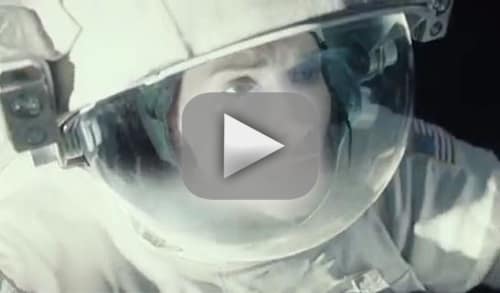 Carrie: Why redo a classic horror film? Well, as our Carrie review states, because the Stephen King story is as timely as ever. With bullying dominating our nation's headlines, the story of the outcast girl who uses her supernatural powers for revenge could not be more resonant. Plus, Chloe Moretz is uncanny as the title character, and Julianne Moore is even scarier as her mother than Piper Laurie was in the original. 
The Fifth Estate: The true story of the founding of WikiLeaks stars Benedict Cumberbatch and Daniel Bruhl as the organization's founders and tells how they revolutionized the way news information is distributed. The film will surely spur a debate, and if nothing else, our The Fifth Estate review reported, it purposely puts the spotlight on our First Amendment and where it drifts into hurting national security.