2 Guns has arrived on DVD and Blu-Ray with Denzel Washington and Mark Wahlberg's guns a-blazing. As seen in the 2 Guns trailer, the two play undercover law officers, only neither knows the other is working in secret. When they go after a drug cartel and it literally blows up in their face, their cover is collectively blown.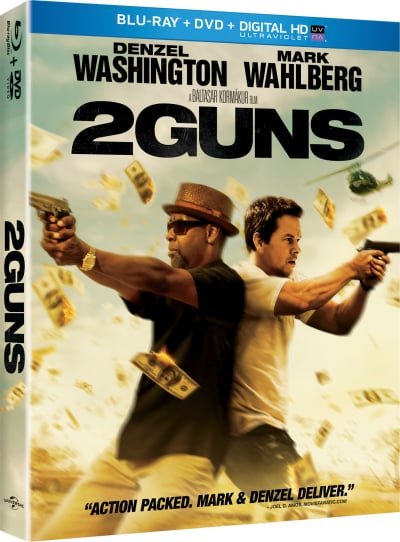 Now that the cartel knows who they are, they must go on the run and not only find a way to get along, but also a means to work together to clear their names and bring justice to those who did them wrong.
Our 2 Guns review found the film action-packed and reported that both stars have impeccable chemistry together. In fact, we would love to see this film serving as the first of many to star Wahlberg and Washington.
2 Guns is based on the BOOM! Studios Graphic Novels by Steven Grant and features an all-star cast including Bill Paxton as you've never seen him before, plus James Marsden, Paula Patton, Fred Ward and Edward James Olmos.
The bonus features on the 2 Guns DVD and Blu-Ray are bloody fantastic. Leading the way is The Good, The Bad and The Sexy that had Wahlberg, Washington, Patton, Paxton, Olmos and Marsden all adding their two cents into not only finding their characters, but what it meant to them to be in this explosive ensemble. Particular insight arrives from the two leads and it can easily be gleaned how these two got along so well on and off screen.
Finding the Vibe is a featurette that takes viewers behind the scenes to see how the graphic novel was brought to life, and particularly strong insight arrives from director Baltasar Kormakur who seems right in his element directing two superstars amidst a flurry of intense action sequences.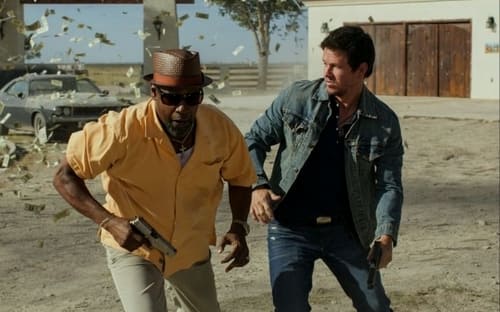 And one documentary that is sure to satisfy those who appreciate what stunt men and women bring to a picture, Living Dangerously puts the spotlight on those who live to bring audiences thrills. So many action features live and die on whether their stunt people achieve greatness. It's nice to see a DVD and Blu-Ray set finally shine a light on those who truly make it happen. A tongue-in-cheek warning, when watching with your kids, they may suddenly have the urge to change career choices to embrace a life of living on the edge!
The deleted scenes add a little to the overall experience, although it is easy to see why they were cut. But after witnessing the entire 2 Guns movie, they do add a fuller feel to the entire viewing experience. The extended scenes are an interesting concept, utilized quite a bit lately on home video releases. After seeing the actual scenes in the film, we're not quite sure why they are being included so much -- in some ways they seem to diminish the storytelling power of the film as a whole.
And since this is such an announcement of the talent of helmer Kormakur, the audio commentary provide by him, along with producer Adam Siegel, is a don't-miss. 2 Guns is his film, even though it stars two Hollywood superstars. In the end, it works so well because of Kormakur's even hand.