In the latest TV spot for Catching Fire, Donald Sutherland's President Snow is concerned, and he should be! It appears that Katniss' fame is stirring the people of his land and in ways that are going past mere celebrity worship. With her act of defiance at the end of The Hunger Games, she may have just sparked a revolution.
With his new Game Master at his side, played by new cast member Philip Seymour Hoffman, they appear to devise a plan that will quiet her once and for all… a Quarter Quell.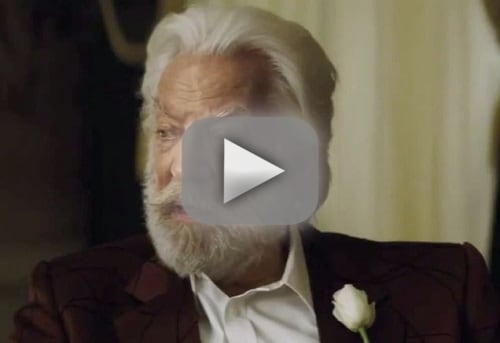 What is that, you ask? As teased in that Catching Fire trailer, an all-star Hunger Games is about to hit to celebrate the 75th anniversary of the Games' beginnings. That way, Katniss will be forced to fight for her life, and with 12 of the best and most vicious killers out there, surely there is no way that lightning will strike twice.
For those of you who have read the books, get that? Lightning strikes twice?! For those of you that haven't, you'll appreciate that pun when you see the movie when it arrives November 22.