It may have been a slow beginning to November, but a win is a win for Ender's Game and Harrison Ford with his first foray into space since Star Wars. Ender's Game debuted with $28 million, knocking off last week's top film, Bad Grandpa. But, the latest Jackass movie didn't do too shabby either, taking in $20.5 million in its second week to bring its total to $62.1 million.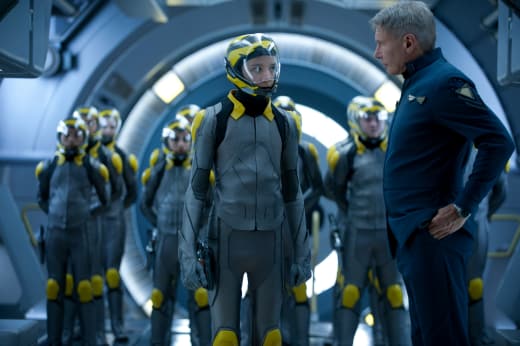 Another new entry into the box office sweepstakes -- the all-star Last Vegas -- debuted in third place…earning $16.5 million. The Michael Douglas, Morgan Freeman, Robert De Niro-starring The Hangover for the AARP set has to be pleased with its debut take. Count on word of mouth to keep that picture in the top 10 as the weeks continue.
The animated Thanksgiving-themed Free Birds arrived in fourth place with a slightly less take than the third place film. The Relativity Media movie banked $16.2 million in its first week of release.
Closing out the top five was a film that spent three weeks at number one, Gravity. The surefire Oscar contender added another $13.1 million to bring its total to an astounding $219 million.
With Thor: The Dark World landing next week, look for the top film at the box office to at least triple the take of this week's number one.
Box Office Top 10:
1. Ender's Game, $28 million
2. Bad Grandpa, $20.5 million
3. Last Vegas, $16.5 million
4. Free Birds, $16.2 million
5. Gravity, $13.1 million
6. Captain Phillips, $8.5 million
7. 12 Years a Slave, $4.6 million
8. Cloudy with a Chance of Meatballs 2, $4.2 million
9. Carrie, $3.4 million
10. The Counselor, $2.3 million