Fast and Furious 7 Photo: Dwayne Johnson is "Cavalry"
by Joel D Amos at . Updated at . Comments
Dwayne Johnson is no stranger to sharing photos from his sets on his social media accounts. Since that first Dwayne Johnson Hercules set photo, we immediately got an idea of what to expect from his sand and sandals epic.
The actor jetted from that Brett Ratner set to the set of James Wan where Johnson is back as Hobbs in Fast and Furious 7. The superstar has shared his latest photo on Instagram and this time he let us know that "I didn't bring the cavalry. I AM the cavalry"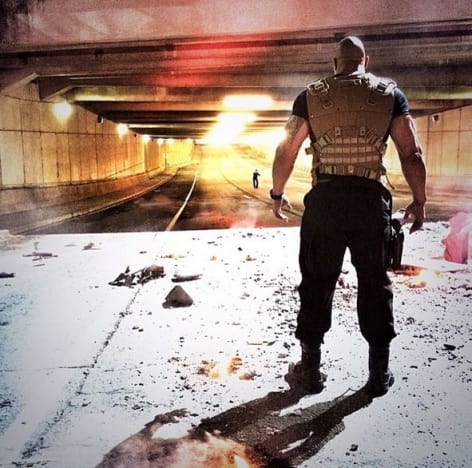 He also went on to say that he was "On set. 4 a.m. High on dirty thoughts & adrenaline as I wait for my director and partner in crime, James Wan (standing deep in the background) to yell "ACTION."
We recently ran an exclusive chat with Paul Walker where he talked about the addition of Kurt Russell to Fast and Furious 7, and with star power like that and Johnson's explosive screen presence, Fast and Furious 7 can easily be predicted to be a blockbuster when it opens July 11, 2014.