Gravity: Watch Earth Side of Sandra Bullock Radio Conversation!
by Joel D Amos at . Updated at . Comments
One of the most chilling moments in Gravity is when Sandra Bullock is in that Russian space capsule, desperate to reach anyone at the other end of the radio. She reaches a person, but it is clearly somebody who cannot help her. The other end of the conversation actually is something that existed in a short film from Gravity director Alfonso Cuaron's son, Jonas Cuaron -- who is the screenwriter of his father's smash hit.
Now, the short film called Aningaaq will be seeing the light of day as it is out now and you can watch it below. It features Bullock's Dr. Ryan Stone in the Russian Soyuz capsule as she reaches a guy on the radio. She hears a baby cry and a dog bark and for a moment… she thinks she could be getting out alive. But then, reality hits.
Warner Bros. will be releasing the film as part of the Gravity DVD and Blu-Ray, and it is being put out now to qualify for the Oscar race for Best Live Action Short Film. It could be the first time that a short film and a long form film would compete for Oscars in the same year that share a congruent timeline.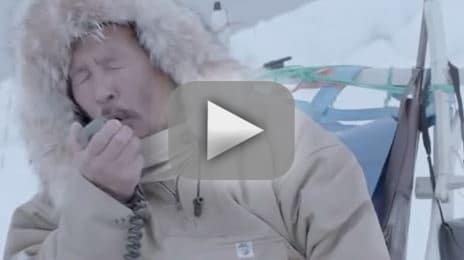 The film stars Orto Ignatiussen as the Inuit fisherman who is on the other side of that moment in Gravity where we have a glimmer of hope.