Grown Ups 2 may have been an excuse for star Adam Sandler to get his friends together for a summer of fun… and filming. But, given that the film is actually better than the first film, they clearly did something right. Sandler is back, along with Kevin James, Chris Rock and David Spade as they return to their roles as longtime friends dealing with those hilarious and heartfelt speed bumps of life.
Grown Ups 2 has arrived on DVD and Blu-Ray, and for fans of Sandler and his comic clan, it is reason to celebrate. For those who don't appreciate his humor, this film wasn't meant for you anyway.
This time out, as teased in the Grown Ups 2 trailer, the gang is all living in the same town. Sandler and onscreen wife Salma Hayek have moved back to the community where he grew up, and now the other guys and their wives (except of course Spade, who is not married and we can't imagine why!) are part of their daily lives.
The ladies are given a little more to do than in the first Grown Ups, and Maya Rudolph, Hayek and Maria Bello make the most of it. Sandler also has brought along a few of his other pals, such as Nick Swarsdon and Tim Meadows and even given a nice cameo part to Shaq O'Neal, who plays a local cop.  
As we stated in our theatrical Grown Ups 2 review, this is not a comedy for the even remotely high-minded, and if child fart jokes and over-the-hill running gags are your thing, then this is your film. It scored decent business at the box office, and should do gangbusters business on home video.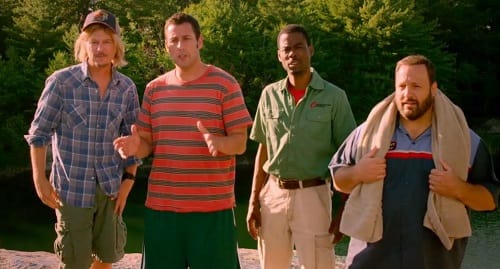 The special features are led by eight deleted scenes and behind-the-scenes featurettes, which are a blast given that this film could be seen as an excuse for old friends to spend the summer together. As such, the camaraderie they have seeps through the screen and it's fun for Sandler fans to see the crew making their movie, exactly as they want to make it. At this point in Sandler's career, he can pretty much do what he wants… and it especially shows on the many behind-the-scenes features.
That O'Neal cameo is actually just the beginning, and the bonus featurette Look Who Stopped By explores those cameos and how they came to be. And one of the funnier moments in the entire film is when Spade is put into a tire and rolled down the hill. Ever the method actor, Mr. Spade's Wild Ride looks at how the funnyman got ready for the hilarious stunt.
The eight deleted scenes from Grown Ups 2 are all interesting, but one can see why they were cut. It's an interesting study in piecing together a comedy film to see them after viewing and appreciating them for what they are… simply extra.