I, Frankenstein Poster: Aaron Eckhart is Frankenstein's Monster
by Joel D Amos at . Updated at . Comments
Lionsgate has unveiled a poster for I, Frankenstein that finds Aaron Eckhart as the titular anti-hero hovering over a world that is on the verge of going completely to hell. Eckhart is Frankenstein's monster in a story -- from the people who brought us the Underworld franchise -- that tells the tale of the monster living in the modern world with a past that is rapidly catching up with him.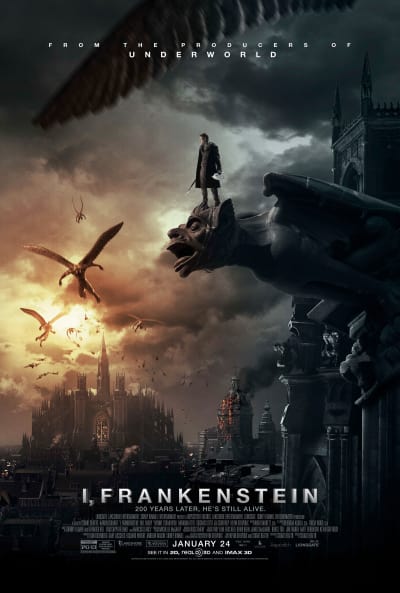 As seen in the first I, Frankenstein trailer, the dark world is starting to rear its head in our modern world as demons prepare to take over the planet. The only thing standing in their way is a man who history has deemed a monster. Eckhart's Frankenstein is a conflicted soul, but with the help of his human friends and love… he may just be our best hope.
I, Frankenstein hits theaters January 24, 2014 and also stars Billy Nighy, Miranda Otto, Jai Courtney and Yvonne Strahovski.