Insidious Chapter 2 DVD: Release Date & Bonus Features Announced
by Joel D Amos at . Updated at . Comments
Insidious Chapter 2 is bringing the scares home just in time for Christmas. Sony Pictures Entertainment announced today that the James Wan-directed sequel to his massive hit Insidious will land on December 24 on DVD, Blu-Ray, Blu-Ray/DVD Combo Pack and Digital Download.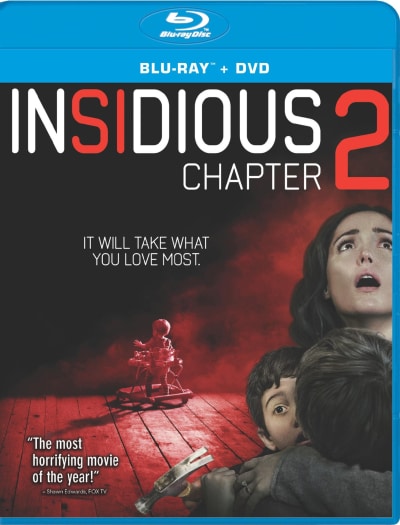 The combo pack features more than one hour of bonus materials, including a never-before-seen three-part webisode entitled, Insidious: Spectral Sightings, as well as not one, not two, but five behind-the-scenes featurettes.
As seen in the Insidious Chapter 2 trailer, the Lambert family is still haunted by what happened in the first film, and whatever it was that was ruining their lives is far from through with them. Patrick Wilson and Rose Byrne are back as the parents with Barbara Hershey returning as Wilson's mysterious mother.
Our Insidious Chapter 2 review could not recommend the smartly crafted horror fest enough, and for those of you that missed it… you have to wait until December 24, but the news is good as the Insidious sequel is coming home.
Insidious Chapter 2 Blu-Ray Bonus Features:
Three featurettes:
Haunted Hospital: On Location: Cast & crew discuss what it's like to film at a haunted location
Leigh Whannell's Insidious Journal: A look at making the film through the perspective of writer/actor Leigh Whannell
Work in Progress: On Set Q&A: Barbara Hershey, Patrick Wilson, Jason Blum, James Wan & Leigh Whannell discuss their experiences filming
Insidious: Spectral Sightings 3-Part Webisodes: Specs & Tucker find an unexpected ally in their early days as paranormal investigators
Bonus Features Included on the Blu-ray and DVD:
Two featurettes:
Peripheral Vision: Behind the Scenes: Go on the set & see how the second installment was created
Ghostly Transformation: Discover how actors were transformed into ghosts in The Further through make-up effects