The story of Linda Lovelace, chronicled in the film Lovelace, is a complicated one that actually makes for a compelling movie. Amanda Seyfried stars as the woman who would go from sheltered teen living under the roof of ultra-religious parents to international porn star and then to the woman who would serve as the face of the fight to stop violence against women.
Her tale arrives on DVD and Blu-Ray, and star Amanda Seyfried is astounding in portraying her harrowing life journey.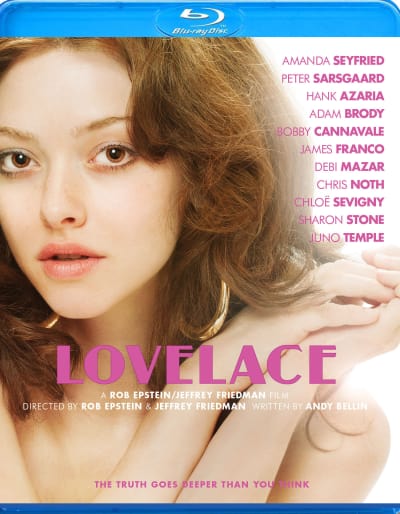 Seyfried impeccably captures the innocence of a young Florida woman who was caught in the spell of a local man (a riveting Peter Sarsgaard) who not only took her away from the controlling world of her parents (impeccably cast Sharon Stone and Robert Patrick) and gave her the moon and stars… but would also become a monster in every sense of the word.
As previewed in the Lovelace trailer, Linda's world was champagne and caviar, albeit for a New York minute. She was treated miserably all along the way up her ladder of fame. And it is an astounding study in human perseverance to see her professional triumph turn into the depths of despair and then to witness her finding the courage to stand up and be heard as a champion of women's rights.
Our theatrical Lovelace review was taken aback at the incredible cast that Oscar-winning directors Rob Epstein and Jeffrey Friedman had gathered that also includes Juno Temple, Chris Noth, Adam Brody and James Franco as Hugh Hefner!
The film will find its largest audience on home video with this DVD and Blu-Ray release, and it is an important story on many levels. It's a powerful human triumph tale that shows how, when our backs are against the wall, sometimes a hero will rise from the most unlikely of places.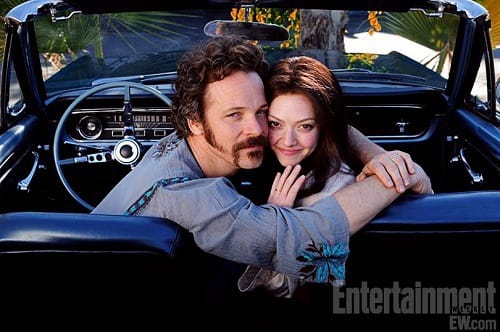 When it comes to the extras on the DVD and Blu-Ray, there really isn't much. A behind-the-scenes featurette delves deeper into the story of Linda Lovelace and we get a few anecdotes from star Seyfried and the directors, but it unfortunately does not add too much to the story itself.
But you know what? That doesn't matter, because the film itself is astoundingly strong and stands all on its own.