Man of Steel DVD Review: Inside a Sensational Superman
by Joel D Amos at . Updated at . Comments
Man of Steel lands on DVD and Blu-Ray and offers the rarest of looks inside the making of a superhero blockbuster movie. We have enjoyed the two-screen experience that Warner Bros. had previously offered with Sherlock Holmes: Game of Shadows and The Dark Knight Rises. But, for those who only have the single screen, they missed out on the opportunity to witness the movie, all while getting video insight -- not simply audio commentary -- from the filmmakers and stars.
That may be the greatest aspect of the entire Man of Steel DVD and Blu-Ray. The fact that, as we stated in our theatrical Man of Steel review, the movie itself is pretty darn awesome doesn't hurt things either.
As teased in the Man of Steel trailer, Henry Cavill is Clark Kent. He is a man who has been brought up on a Kansas farm by his adoptive parents (Diane Lane and Kevin Costner). Before long, it becomes clear that Clark is not like other kids. He has powers that we all know are the embodiment of Superman.
What sets Snyder's Superman "origins" story apart from others is he effortlessly interweaves flashbacks to when Clark was a boy with his adult journey to find himself in a world that could see him as a threat… or a hero. Sure, we meet Amy Adams' Lois Lane and she plays more of an integral role in the plot than in any other Superman movie. But, this is Cavill's film and there could have been no better person cast at this point in history -- and that is nothing but good news for Superman fans everywhere.
As told to us in our Robert Downey Jr. Iron Man 3 interview, a superhero movie is only as good as its villain. And in Man of Steel, Michael Shannon is Zod and blows us away. He is a fantastic first foil for Snyder's Superman, and the Oscar-caliber performance from him goes down alongside Heath Ledger's Joker in The Dark Knight.
The Journey of Discovery: Creating Man of Steel feature, as we said previously, is simply astounding. Being able to witness the majesty of Snyder's work while simultaneously hearing (and seeing!) him at work on multiple screens within your television screen is frankly… visionary. Until every household has an iPad or similar device, this is a fantastic way to utilize the two-screen technology those aforementioned titles used.
Insight comes during that feature -- not only from Snyder, but also Cavill, Adams and others -- that cannot be achieved by a simple audio commentary track. As film is such a visual medium, it seems like a no-brainer that this would be the next step in DVD and Blu-Ray bonus feature technology.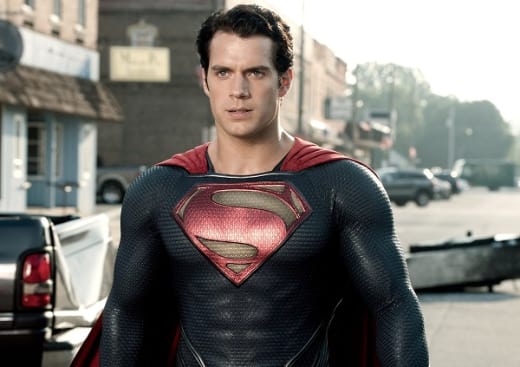 We also appreciated the featurette All-Out Action that takes viewers inside the training regimen that would take Cavill from fantastic actor to, well… Superman. Not to be left out is Shannon as he too is given the spotlight into becoming a physical force to battle the Man of Steel. Watching these two develop, physically, into believable super-human foes is truly inspiring.
Strong Characters, Legendary Roles takes us behind the legacy of Superman and his 75-year history and how the new iteration plays into the overall mythology of the Superman story. Superman fans of all ages will treasure this feature.
As teased in our Krypton infographic, the bonus feature Krypton Decoded features the actor who plays 13-year-old Clark Kent (Dylan Sprayberry) giving us everything you could possibly want to know and more about Superman's home planet. For fans and new fans to the Superman series, it is both extremely educational and entertaining. Pair that with the Planet Krypton featurette and Superman aficionados will be in Kryptonian heaven.