Oliver Stone Talks JFK Assassination & JFK Collector's Edition
by Joel D Amos at . Updated at . Comments
As a nation reflects on it being 50 years since John F. Kennedy was assassinated, we caught up with JFK director Oliver Stone as his film marks the dark day with a stellar commemorative edition. The iconic helmer has found some solace in the fact that what he presented in his film was considered heresy when it arrived on screens in 1991, and now much of what he shined a light on at the least is given credence. And at the most, it is considered something the public at least believes.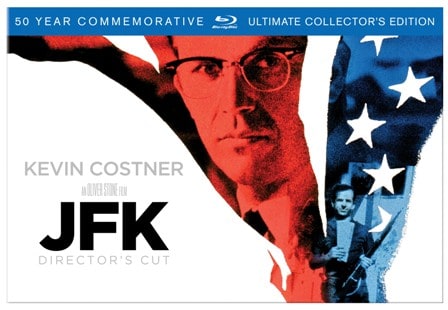 "High school teachers will take the film and put it in their classroom and show it," Stone proudly said. Clearly the world is still haunted by what happened on that day, with the recent release of films such as Parkland.
"I think JFK had some great lessons. I got lots of letters from people back then that this really changed my life. It made me think about things in a different way. Our government is not necessarily one to be trusted. Jim Garrison (played by Kevin Costner in the movie), criticized as he was, was one of the gutsiest guys to ever bring a case in the public against the covert operation of this government. That is splendid. He was much criticized when our movie came out. Now he might be seen as more of an oracle for today's age than as a Looney Toon."
Among the extras featured in the special edition Blu-Ray, besides the JFK Director's Cut, is the To the Brink Chapter 6 from Stone's Showtime series The Untold Story of the United States. Stone himself explains, "The chapter isn't exactly about the assassination, but 'the big picture,' why Kennedy may have been killed and the following events."
Also included in the new JFK Blu-Ray release is JFK Remembered: 50 Years Later from filmmaker Robert Kline as well as the George Stevens acclaimed John F. Kennedy: Years of Lightning, Day of Drums documentary. And for this appreciator of all things JFK, the collector's edition's inclusion of the 32-page JFK quotations book, a copy of his Inaugural Address, campaign poster and 44-page photo book is simply priceless.
Stone admitted that if he hadn't made JFK, he may be thought of more highly in Hollywood. "When I made JFK, I never really came back. I reached a place where I was radical. I was not to be trusted. My critics said I was making up things. Well, we researched that movie. We put out a book, a compendium to that movie, that is still available. We may have made a few mistakes, nothing major. We got it right from eyewitnesses and all the information that we read," Stone said.
"The AARB, the Assassination Records Review Board, appointed in 1992, went on till 1998, they had four million pages that substantiates and opens up further the holes we pointed out. That Warren Commission is Swiss cheese. It's Alice in Wonderland. It doesn't make any sense from the magic bullet theory to Oswald -- the members knew that. Even Lyndon Johnson doubted the findings. They knew it was a whitewash."
With the commemorative edition of JFK out now, Stone is particularly proud of some of the actual words of John F. Kennedy that are featured in the film that he feels say it all. "JFK has a great speech at the end. 'It's up to you,' he says. Costner's last summation in the courtroom is based on his final -- it's almost, not verbatim -- but it's based on Kennedy's final words," Stone said.
"I hope people can see it again. I hope you remind them of some of the power of the film. I would urge them to think for themselves."