Paranoia may feature the second cinematic sparring of Harrison Ford and Gary Oldman, after their work on Air Force One, but it does not possess the same power by a long shot.
As shown in the Paranoia trailer, Ford and Oldman are tech titans who run telecom companies battling for every last cellular user in the world. Liam Hemsworth stars as the up-and-coming businessman who gets caught in between the two. The film has landed on DVD and Blu-Ray and should garner more of an audience than it did when it was released in theaters.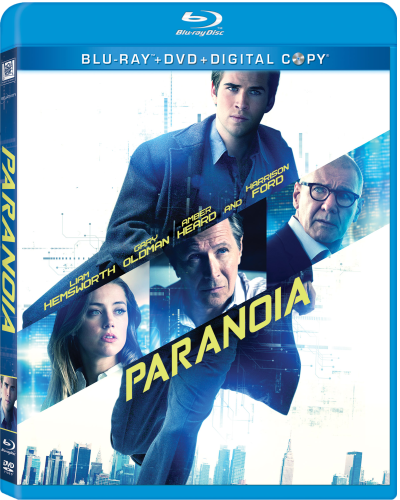 In our theatrical Paranoia review, Movie Fanatic didn't find too many sparks in a film that should be electric. Oldman and Ford are awesome, as always, but there is little in the script that gives these two acting titans much to work with. Ever the pros, they do the most with it that they can and Hemsworth can only do so much himself as he tries to play a character navigating the high and low road, all with an eye on a lifetime of business success.
Amber Heard is also cast in a wasted role that could have been cast with any no-name actress in it as it is somewhat empty in character development and, frankly, purpose.
However, the issues Paranoia brings up are quite solid and beyond timely. In this age of NSA hacking scandals and Patriot Act-induced fears of privacy, the idea that what we talk about and do with our smart phones and cellular devices can be seen by anyone is frightening. It's just in the scope of the movie Paranoia, it never adds up to give its audience the real sense that its characters have warranted paranoia.
When it comes to bonus features, there are not that many, but one does stand out and it firmly embraces the element of the film that is completely redeeming -- privacy.  Privacy is Dead takes audiences on a real-life journey that should frankly scare you beyond belief. The ease with which information is gathered from our computer use, spending habits and yes, what we say on our phones is almost Orwellian. This bonus feature may even be more compelling than the entire movie itself.
The deleted scenes are included and it's easy to see why director Robert Luketic left them out of his release. The Paranoia Begins feature would work better chronicling the building of the movie's suspense, if the movie was actually suspenseful. And given the star wattage of Paranoia, The Players bonus feature is quite fascinating as it profiles those involved in this production that has so much promise.