People's Choice Awards Nominations Announced: Sandra Bullock & Channing Tatum Score Big
by Joel D Amos at . Updated at . Comments
The "People" have spoken, well at least the People's Choice Awards, in that they have released their nominees for the 2014 People's Choice Awards. And it appears that they love Channing Tatum and Sandra Bullock.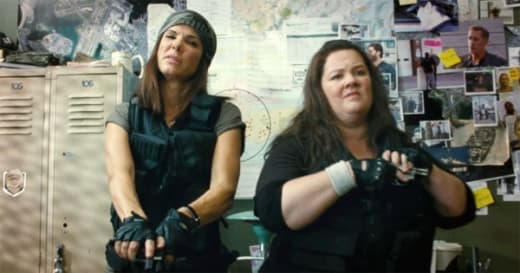 Bullock scored with her films Gravity and The Heat and pulled a triple threat by earning Favorite Movie Actress, Favorite Comedy Movie Actress and Favorite Dramatic Movie Actress nominations.
Meanwhile Tatum also racked up the nods by earning a nomination for Favorite Movie Actor, Favorite Action Movie Star and Favorite Dramatic Movie Star.
To see who wins, tune in to the awards when they air January 8, 2014 on CBS. Until then, the 2014 People's Choice Awards nominees are…
Favorite Movie:
Fast & Furious 6
Iron Man 3
Monsters University
Star Trek Into Darkness
Favorite Movie Actor:
Channing Tatum
Hugh Jackman
Johnny Depp
Leonardo DiCaprio
Robert Downey Jr.
Favorite Movie Actress:
Gwyneth Paltrow
Jennifer Aniston
Melissa McCarthy
Sandra Bullock
Scarlett Johansson
Favorite Movie Duo:
Chris Pine and Zachary Quinto, Star Trek Into Darkness
Jennifer Aniston and Jason Sudeikis, We're the Millers
Robert Downey Jr. and Gwyneth Paltrow, Iron Man 3
Sandra Bullock and George Clooney, Gravity
Sandra Bullock and Melissa McCarthy, The Heat
Favorite Action Movie:
Iron Man 3
Star Trek Into Darkness
The Wolverine
World War Z
Favorite Action Movie Star:
Brad Pitt
Channing Tatum
Hugh Jackman
Robert Downey Jr.
Vin Diesel
Favorite Comedic Movie:
Grown Ups 2
The Hangover Part III
The Heat
Instructions Not Included
Favorite Comedic Movie Actor:
Adam Sandler
Bradley Cooper
Chris Rock
James Franco
Zach Galifianakis
Favorite Comedic Movie Actress:
Emma Watson
Jennifer Aniston
Melissa McCarthy
Sandra Bullock
Scarlett Johansson
Favorite Dramatic Movie:
Captain Phillips
Gravity
The Great Gatsby
Lee Daniels' The Butler
Prisoners
Favorite Dramatic Movie Actor:
Channing Tatum
Chris Hemsworth
Hugh Jackman
Leonardo DiCaprio
Ryan Gosling
Favorite Dramatic Movie Actress:
Amy Adams
Emma Stone
Halle Berry
Oprah Winfrey
Sandra Bullock
Favorite Family Movie:
Despicable Me 2
Monsters University
Oz the Great and Powerful
Percy Jackson: Sea of Monsters
The Smurfs 2
Favorite Horror Movie:
Carrie
The Conjuring
Hansel & Gretel: Witch Hunters
Insidious: Chapter 2
Mama
Favorite Thriller Movie:
A Good Day to Die Hard
The Call
Now You See Me
Red 2