Planes DVD Review: High-Flying Adventure for All Ages
by Joel D Amos at . Updated at . Comments
Planes arrived on screens to the delight of millions in the late summer and now it has landed on DVD and Blu-Ray. The movie is a spin-off of the world of Cars and it takes audiences inside the world of the titular vehicles and focuses on the world of Dusty. As the Planes trailer shows, he is a crop duster who has dreams of being a racing plane, competing against the fastest planes in the world.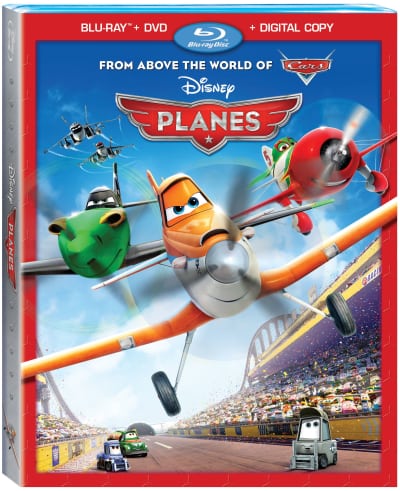 It's a classic underdog story of a character who dreams of a world behind theirs, and in the hands of Disney, it hits all the right notes… as we stated in our theatrical Planes review.
Dusty is voiced by Dane Cook, impeccably cast as his vocal tone fits the dreamer to a "T." The film also features an all-star voice cast that includes Stacy Keach, Teri Hatcher, Julia Louis-Dreyfus, John Cleese, and a couple of Top Gun veterans -- Anthony Edwards and Val Kilmer.
The film is clearly geared towards the youngest of Disney's audiences, although adults will enjoy it. It is the type of Disney film that kids will want to watch over and over, so it is perfect for purchase, especially with the film's many bonus features.
Exclusive to the Blu-Ray is Franz's Song, a never-before-heard track sang by the German mini-car, Franz Fliegenhosen, the one character in the movie who believes in Dusty's dreams and encourages him to go for them. Also new to the Blu-Ray is Klay's Flight Plan, a 15-minute documentary that follows director Klay Hall and his personal journey in making the Disney flick. Among the things Hall did to get ready to direct Planes is flying in some seriously awesome planes, including a fighter jet which we see him landing on a Navy flight deck!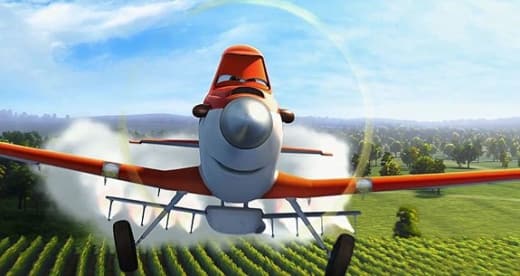 Hall and producer Traci Balthazor-Flynn introduce a series of deleted scenes that didn't make the theatrical cut, but are still worthy of the Disney moniker. The training montage and the Taj Mahal sequence are both thrilling, along with the Meet the Racers featurettes, which feature over five minutes of introductions of the various plane characters including El Chupacabra, Ripslinger, Dusty and Ishani.
The Top 10 Flyers featurette is hosted by ESPN's Colin Cowherd as it chronicles the top 10 flying aces in history.
Planes further proves that when it comes to taking their theatrical hits and bringing them to home video, Disney does it brilliantly by capturing the moments that home viewers want, without pandering to them.