After the success of Red starring Bruce Willis, Helen Mirren, Morgan Freeman and John Malkovich as retired former secret agents (and Mary-Louise Parker as a woman who gets sucked into their world and becomes a love interest of Willis), the fact that a sequel was green lit is hardly a surprise. Red 2 did well at the box office last summer and now storms its way home on DVD and Blu-Ray.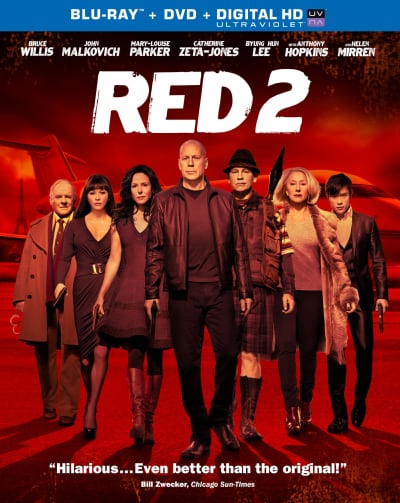 What makes this film tick so well, and in many ways a step up from the wild original, is the chemistry of the cast, but also the additions of Catherine Zeta-Jones and Anthony Hopkins. As we stated in our theatrical Red 2 review, the gang is back and better than ever.
The Red 2 trailer hints at the story that would realistically bring these guys back together, and it is a serious one. Someone has gotten the inside scoop on something Malkovich and Willis did back in the 1970s and it is coming back to haunt them in a big way.
They enlist the help (or she gives it, whether or not they ask is questionable!) of Zeta-Jones' Russian operative, and somehow Hopkins' scientist is integral to the entire mystery being solved? Or… is he the reason for the mystery in the first place?!
The bonus features are actually quite limited, but they are effective and entertaining. The Red 2 Experience is a behind-the-scenes featurette that is all-encompassing. Some home video releases break down their making-of features into smaller pieces, but not so with Red 2, and it is actually quite nice to get it all in one shot without having to go back to the menu to select the next one!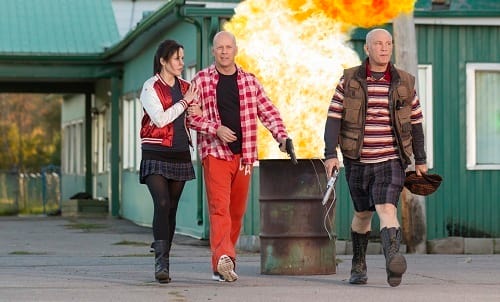 The deleted scenes are a blast, and why wouldn't you want to watch this superstar cast in scenes that did not make the cut of the theatrical version? The banter between Willis and Malkovich is pure gold, as is the electricity that emanates from Zeta-Jones. And to see them all in action (Hopkins too!) is pure bliss.
And given the cast's penchant for having a funny bone, the gag reel is also a nice addition. Each performer has had great experience with comedy, so it is only natural that their blooper reel would feel as funny as if Red 2 were a comedy.