Star Wars Episode VII: J.J. Abrams Posts First Set Photo
by Joel D Amos at . Updated at . Comments
A familiar android is at the heart of the first behind-the-scenes photo from J.J. Abrams as he readies to get busy making Star Wars: Episode VII. The photo landed thanks to Bad Robot, Abrams' production company's Twitter feed, with the following comment: "Hi from the workshop!"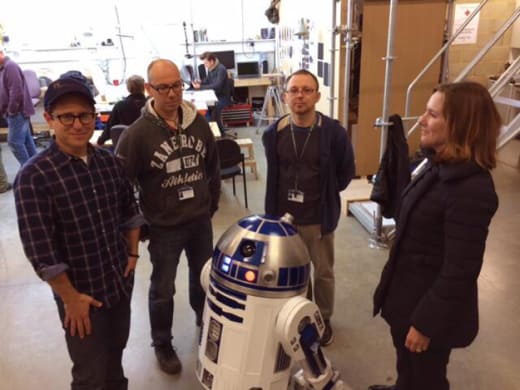 Of course the droid in question is R2D2 and I guess it's safe to say that he'll be in Star Wars: Episode VII. But, will Harrison Ford, Mark Hamill and Carrie Fisher? And what about those who recently read for parts, like Saoirse Ronan and Michael B. Jordan?
We have a feeling that many announcements are coming soon, specifically on casting and a Star Wars: Episode VII title.
However, we do know now the Star Wars: Episode VII release date of December 18, 2015.