Star Wars Episode VII: R2-D2 Confirmed by Fan Builders!
by Joel D Amos at . Updated at . Comments
Just last week, Movie Fanatic posted that Star Wars: Episode VII set photo of J.J. Abrams, with producer Kathleen Kennedy and those two other guys. Well, it turns out that those other guys are fans of the Star Wars series who Kennedy met at a fan event in Europe. They, as a hobby, build Star Wars droids for fans, and Kennedy was so impressed with them, that she had them hired to build droids for Star Wars: Episode VII.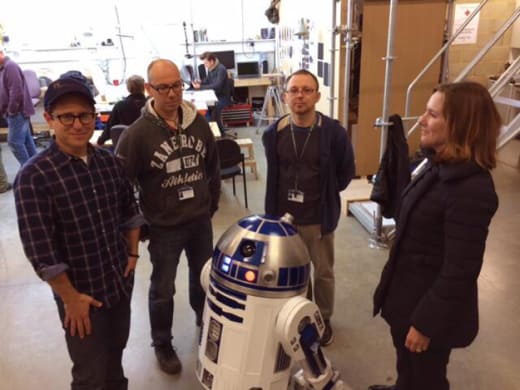 To say the two guys, Lee Towersey and Oliver Steeples, are excited is probably the understatement of the century. "She posed for pictures with us, looked at all the droids we'd built and was very complimentary. I mentioned that the R2-D2 Builders in the UK were available if required, as a semi-joke. When I was contacted to work on the film by (executive producer) Jason McGatlin, it was on her recommendation," Steeples said.
"It all started when Kathleen Kennedy toured the R2-D2 Builders area at Celebration Europe this past summer in Germany!"
Steeples and Towersey are now busy at Pinewood Studios crafting droids for the next chapter of the Star Wars world, and according to Towersey, they are humble… but also keenly aware that producers have hired the right people.
"We know the pressures of filming, prepping, and being able to assure reliability throughout the shoot," says Towersey. "We have a good knowledge of Artoo, with a large stock of parts for reference and drawings, plus we know what is involved throughout the whole building process, as well as potential problems we need to avoid."