The Amazing Spider-Man Trailer: Premiering December 5
by Joel D Amos at . Updated at . Comments
Although we were originally told that The Amazing Spider-Man 2 trailer would land in front of the first showings of The Hobbit: The Desolation of Smaug when that film lands December 13, it appears online audiences will get a gander on December 5.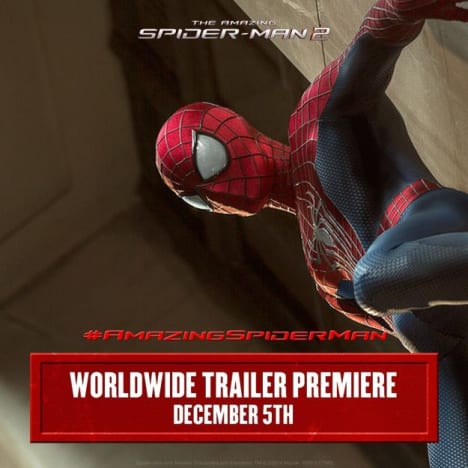 Sony Pictures announced the news on their Facebook page and even dished out a nifty little graphic to celebrate it (above).
The Amazing Spider-Man 2 features not only Andrew Garfield returning to the dual roles of Peter Parker and Spider-Man, but Emma Stone as Gwen Stacy. They will be joined by Jamie Foxx as Electro and Paul Giamatti as Rhino.
Sony also recently announced that it is expanding the Spider-Man world to include new heroes and villains that movie audiences have never seen before.
The Amazing Spider-Man 2 hits theaters May 2, 2014, and stay with Movie Fanatic as we bring you that first trailer when it lands early in the morning on December 5!