The To Do List is out now on DVD and Blu-Ray and marks a coming out party for two talented women without whom this movie would not be as fine as it is.
Star Aubrey Plaza breaks out of her Parks and Rec starring mode as a high school valedictorian who gets an A-plus in everything school-wise and an F when it comes to any kind of experience with boys. Writer-director Maggie Carey also makes an announcement to the world with her big screen debut that shows that she can create a film as raunchy, hilarious and heartfelt as the Judd Apatows of the world.
As The To Do List trailer teases, Plaza's character, Brandy, decides that before she heads off to college, she has to experience everything there is to experience when it comes to boys. Considering she's starting from zero, she produces a "To Do List" of everything she can think of, and a few she read about on the internet. At the urging of her sister Amber (the awesome Rachel Bilson), she dives into this new world, and to the shock of her friends, she begins to start checking things off her list.
The supporting cast is impeccably put together, including Scott Porter and Bill Hader (Carey's real life husband), as a slacker lifeguard who is Brandy's summertime boss. The hilarious ensemble is filled out by Christopher Mintz-Plasse, Andy Samberg, Donald Glover and Connie Britton and Clark Gregg as Brandy and Amber's parents.
Carey is a talent and we cannot wait to see what she comes up with next, as we stated in our theatrical The To Do List review. The way she wields the camera and captures the cast at their comic best shows such innate talent.   
The bonus features are highlighted by two featurettes, Maggie Carey: Directing Her To-Do List and Dirty Mouth. The former illustrates why this is a woman worth noting when it comes to everything she sinks her teeth into going forward. The latter is a terrific video featuring every single "bad" word uttered in the movie strung together in one hilarious vignette.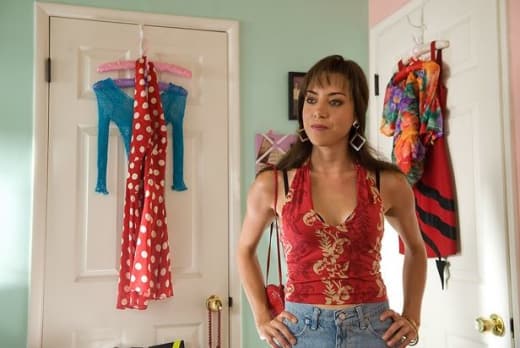 Even the deleted scenes are terrific and we can see why they were cut for plot and time, but after viewing the movie, we cannot recommend witnessing them enough as they further show the magic of a filmmaker and her cast working at their very best. The Re-do List (the gag reel) is a bit short, but perhaps it's just so good that we are left wanting more!
Given that this film is Carey's baby, her commentary is an utter treat. The fact that she does it with her husband Hader has us thinking that these two could make a career simply making movies together for the next several decades!