The first clip for Martin Scorsese's The Wolf of Wall Street has arrived and it features quite the one-two punch in Jonah Hill and Leonardo DiCaprio.
As shown in that first The Wolf of Wall Street trailer, Hill asks DiCaprio about his nice car and then promptly requests to see his pay stub. If DiCaprio can prove his worth, Hill's character says he will quit his job and go work for him.
Immediately we saw a priceless chemistry between the two leads and a great performance potential from Hill especially. And yes, there already is a ton of Oscar buzz around DiCaprio's turn as the real-life Wall Street wizard who illegally earned millions of dollars in the 1990s and subsequently spent 22 months in federal prison. And perhaps Hill will get a Supporting Actor nod, like he did for Moneyball! 
The clip below shows Hill and DiCaprio utilizing the most unique means of trying to hide their money.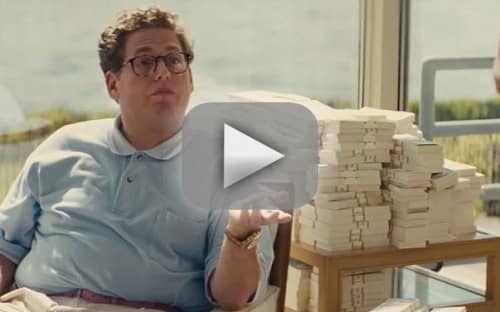 The Wolf of Wall Street lands in theaters December 25 and also stars Matthew McConaughey, Rob Reiner, Jon Favreau, Kyle Chandler and recent Oscar winner for The Artist, Jean Dujardin.