Thor The Dark World Hammers the Competition: Weekend Box Office Report
by Joel D Amos at . Updated at . Comments
Who came in first at the weekend box office was hardly a surprise, so the question for Thor: The Dark World would be how much money it made. The answer has arrived and the second chapter in the Thor stand-alone world banked over $86 million in its first weekend of release. Just for reference, the Thor sequel earned 31 percent more than the first film.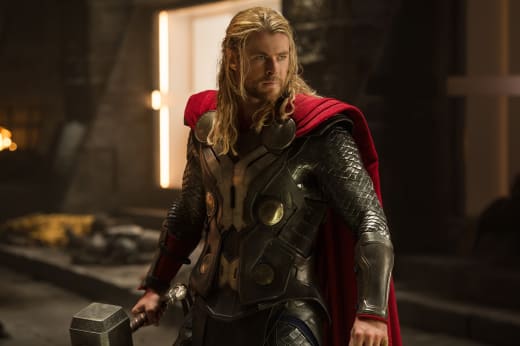 Second place did not belong to one of the other new films to land in theaters, but a previous number one movie… Bad Grandpa. The Johnny Knoxville-created character cranked out another $11.3 million in its third week of release. Knoxville's cranky creation has made over $78 million… so far.
Third place belonged to Free Birds. The animated holiday film about turkeys who go back in time to take their kind off the Thanksgiving menu showed it has some legs. Free Birds sold $11.2 million in tickets, bringing its total to $30.2 million.
Fourth place found Last Vegas as the all-star cast added another $11.1 million to bring its cume to $33.5 million. Closing out the top five was last week's number one film, Ender's Game. The Harrison Ford sci-fi thriller took in $10.3 million for a two week total of $44 million.
The other new wide release this past weekend, the Richard Curtis-created About Time, had to settle for ninth place with its $5.2 million first week haul.
Box office top 10:
1. Thor The Dark World, $86.1 million
2. Bad Grandpa, $11.3 million
3. Free Birds, $11.2 million
4. Last Vegas, $11.1 million
5. Ender's Game, $10.3 million
6. Gravity, $8.4 million
7. 12 Years a Slave, $6.6 million
8. Captain Phillips, $5.8 million
9. About Time, $5.2 million
10. Cloudy with a Chance of Meatballs 2, $2.8 million