Turbo is a family movie, through and through. The animated movie follows a snail, voiced by Ryan Reynolds, who has this unquenchable desire to go fast. Given his place in the ecological world, we all know that dream is about as realistic as those proverbial pigs flying. Turbo has landed on DVD and Blu-Ray, and as the Turbo trailer shows, our little guy does get his wish and even goes so far as to have dreams of competing at the Indianapolis 500.
When Turbo arrived in theaters this past summer, our Turbo review found it an inspiring tale for families with both parents and kids finding something about it to enjoy. The humor works for all age groups and the positive messages cross generations. And that voice cast is top notch, beginning with Reynolds, who could not be more perfectly cast. Paul Giamatti portrays his brother who is continually trying to be the voice of reason. But, as we all know, when it comes to reason, dreamers do nothing but ignore it. And that's why we love them.
Turbo, from the filmmakers behind Madagascar and Kung Fu Panda, also features the vocal talent of Michael Pena, Snoop Dogg, Maya Rudolph, Michelle Rodriguez (of Fast and Furious fame!) and Samuel L. Jackson. And listen closely or you will miss scene stealer Ken Jeong! Want to know more about the film? Check out this video from 20th Century Fox that gives you Turbo in a lightning fast 60 seconds!
The bonus features are not only simply for the adults in the room wondering how the magic was created as most DVDs and Blu-Rays are catered towards. But, the youngest of movie fans are in for a treat. Leading the pack is Smoove Move's Music Maker, which features action-packed music videos with songs from the film's soundtrack.
In The Race, director David Soren provides an introduction for the storyboard sequence for the big race that lies at the heart of the film. Both young and old will marvel at how the pivotal scene was created.
Now kids will adore the bonus feature Shell Creator! Each snail character in the film has their tripped out shell that is uniquely their own. Kids cannot help but want one of their own, and thanks to the magic of 20th Century Fox Home Video, they can! And a feature you might want to watch with the kids before tackling Shell Creator is Team Turbo: Tricked Out. That short doc gives our favorite snails the spotlight while showing off their cool components that make up each of their shells.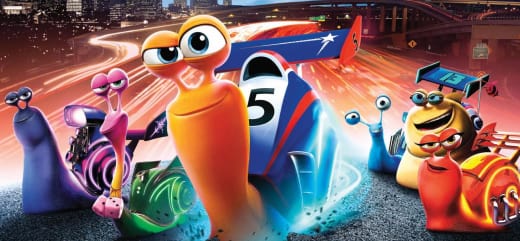 We also adored the Be An Artist featurette that has Dave Burgess, Head of Character Animation on Turbo, illustrate to the audience how to draw some of their favorite characters from the film including Turbo, Skidmark, Burn, Smooth Move, White Shadow and Whiplash.