We're the Millers DVD Review: Jennifer Aniston & Jason Sudeikis' Fine Fake Family
by Joel D Amos at . Updated at . Comments
From the moment we saw that We're the Millers red band trailer, Movie Fanatic had an inkling that the Jennifer Aniston and Jason Sudeikis-starring comedy would strike a chord. Little did we know that it would go on to make $150 million in the busy summer season! For those of you that missed it, and for those of us who are eager to witness it again, We're the Millers is out now on DVD and Blu-Ray and it's worth every cent between the hilarious film itself and bonus features that are pure gold!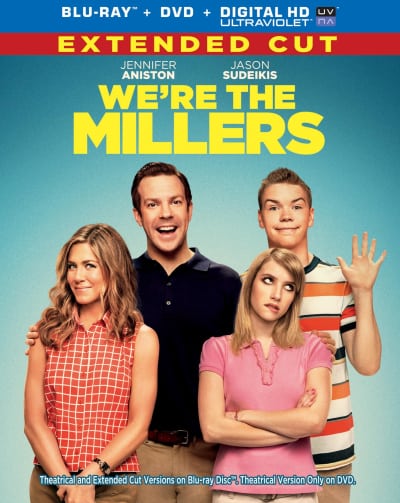 Clearly as you can tell, and as can also be seen in our theatrical We're the Millers review, Movie Fanatic quite enjoyed the film. Aniston and Sudeikis have impeccable comic chemistry, and for most comedies that would be enough. But there is a story at the heart of the film that is well written, and yes hilarious, but also heartwarming.
Sudeikis is a pot dealer, who gets robbed of his supply. When he goes to his boss (an out of this world Ed Helms) to tell him what happened, Helms is less than sympathetic and basically tells him he has to bring a "smidge" of weed back from Mexico to make it right… or he's dead. Sudeikis doesn't know what to do, but then while sitting on the stoop of his building as a clueless family drives up in an RV asking for directions… it hits him. Who would question a family on vacation coming back from Mexico in an RV?!
So, he enlists his neighbor, the stripper played by Aniston, to pretend to be his wife. He also gets the runaway who frequents his neighborhood, played by Emma Roberts, and the clueless kid who lives in his building, played with impeccable hilarious and clueless panache by Will Poulter. Boom! Instant family… things should work out just fine, no?
Well, as we all know from comedies like this, they don't and that is to the benefit of the audience.
What's so fantastic about the We're the Millers DVD and Blu-Ray release is it is the rare comedy that takes its home video arrival seriously and sees it as a chance to further enhance its rep as a comedy for the ages. Bonus features are aplenty, but we have to start with the inclusion of the extended cut of the film itself. Director Rawson Marshall Thurber had a field day with his cast, and the ability to see the film as he would have presented it completely is priceless.
Miller's Unleashed: Outtakes Overload is exactly that -- so many outtakes that it will make your head spin from laughing so hard. In fact, we think "Overload" is the wrong word, because in this case… there is no such thing.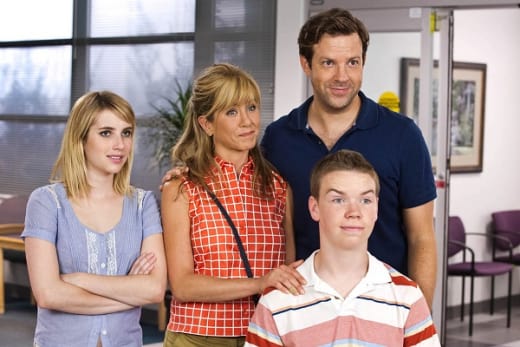 The Stories from the Road feature is a delightful addition, given the road trip nature of the film, which can produce some hilarious moments off screen in addition to on the screen. It is also a great opportunity to witness how this quartet of actors found their groove as a fake family as the filming crossed the country.
Fans of Jennifer Aniston will treasure the Extreme Aniston bonus feature that gives the talented actress her own spotlight that with turns in We're the Millers show, is richly deserved.
Other bonus features showcase the RV that will house our fake family as they cross the country and a hilarious scene involving some venom and Poulter is delved into deeper (you'll have to see the movie first as the bonus feature only adds to the outrageous hilarity). And the "usual" deleted scenes, gags and "more" outtakes are anything but "regular" with this cast of talented characters.