We all know where Mystique heads when it comes to the future of the X-Men franchise, but what is a mystery is where the Jennifer Lawrence incarnation of Mystique lands after her heading off with Magneto (Michael Fassbender) at the end of X-Men: First Class.
Given what we saw in that first X-Men: Days of Future Past trailer, things with Mystique and Magneto don't look so good.
Lawrence, talking to IGN, let the world in on where we find her at the beginning of X-Men: Days of Future Past.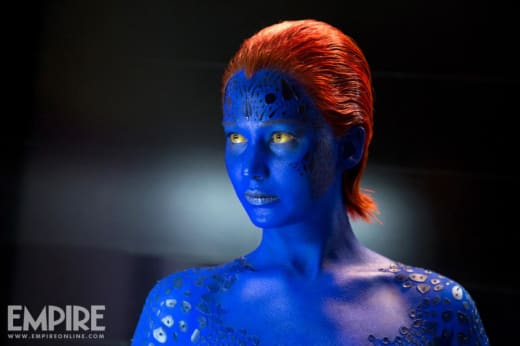 "We find Raven, she's split off from Eric and Charles and she's her own agent," Lawrence said. "She has one mission of trying to assassinate somebody and it will be her first kill basically -- and because we've seen her in the future and what she becomes and this is kind of a turning point for her."
X-Men: Days of Future Past reunites the X-Men of old and new on May 23, 2014 and features Lawrence and Fassbender joined by James McAvoy, Patrick Stewart, Ian McKellen, Ellen Page, Peter Dinklage, Nicholas Hoult, Anna Paquin and Boo Boo Stewart.