X-Men Days of Future Past Photo: New Uniform for Magneto!
by Joel D Amos at . Updated at . Comments
Michael Fassbender is sporting some fresh duds in a new photo from X-Men: Days of Future Past. The new look for Magneto was hinted at in the X-Men: Days of Future Past trailer and now that we get a full look at it, it's pretty darn cool!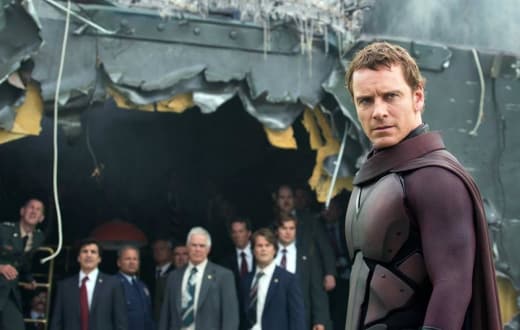 X-Men: Days of Future Past does not land in theaters until May 23, 2014 but you can forgive Movie Fanatic for having it on the front burner as the Bryan Singer-directed flick has us all sorts of excited. With practically the entire X-Men casts, old and new, participating… it promises to be one explosive movie event.
James McAvoy, Fassbender, Jennifer Lawrence and Nicholas Hoult are back from X-Men: First Class and they are joined by Patrick Stewart, Ian McKellen, Hugh Jackman, Ellen Page and Halle Berry from the first X-Men trilogy.