Anchorman 2 Exclusive Giveaway: Win Ron Burgundy Bounty
by Joel D Amos at . Updated at . Comments
Anchorman 2 is storming into theaters December 18, and to celebrate, Movie Fanatic is awarding one lucky reader an Anchorman 2: The Legend Continues prize pack.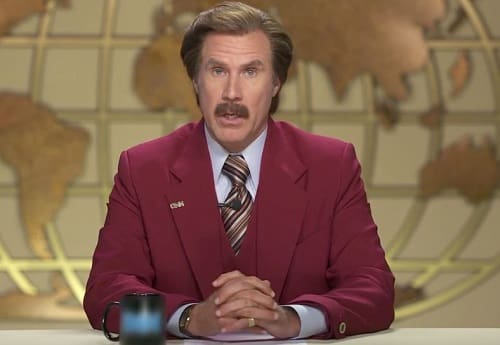 The moment that first Anchorman 2 trailer landed, we placed this sequel on our list of most anticipated films of the year. The sequel to Anchorman has been a long time coming, and with Will Ferrell back, along with the entire Action News Team (Steve Carell, Paul Rudd and David Koechner), it is sure to be a bona fide hit.
As explored further in the full Anchorman 2 movie trailer, Ron Burgundy gets the News Team back together for a huge job opportunity in New York City. A rich Australian is starting a 24-hour news channel and he wants the guys to resume their newscaster duties and help usher in a new era of television reporting.
Guest stars abound, including Harrison Ford, and we know that Kanye West shot a scene too!
Our Anchorman 2 giveaway winner will receive an Anchorman "Stay Classy" T-Shirt, an Anchorman keychain that has six different Burgundy bits, an Anchorman hat and a code to download the new Anchorman-inspired app "Scotchy Scotch Toss" for any iOS device.
To enter, use the widget below to enter on Facebook or Twitter. There are three unique ways to enter, and by entering all three ways you can increase your chance at winning! And enter now, this prize pack's winners will be announced December 27.