Avengers Age of Ultron: Don Cheadle's Rhodes Will Appear!
by Joel D Amos at . Updated at . Comments
One of our favorite characters in the Iron Man series is Colonel James Rhodes, and news has arrived that Avengers: Age of Ultron will have actor Don Cheadle back in the role. We last saw Cheadle in Iron Man 3, and it will be fascinating to see how Whedon weaves in the character while still introducing James Spader as Ultron, Elizabeth Olsen as Scarlet Witch and Aaron Taylor-Johnson as Quicksilver.
Oh yeah, and then there's the rest of those superheroes to write dialogue and plot points for!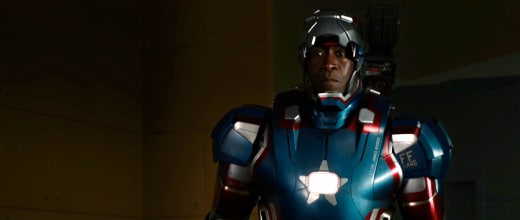 We have a theory that Cheadle may have a minor role in Avengers: Age of Ultron. Given that Robert Downey Jr. has made it known he's not sure if he'd return as Iron Man after The Avengers sequel, perhaps Marvel is thinking about its Iron Man franchise and handing it over in some capacity to Cheadle's character.
We'll have to wait and see when Avengers: Age of Ultron hits theaters May 1, 2015.