Ridley Scott has revealed his first image from his upcoming biblical epic Exodus, featuring Christian Bale as Moses. Is the bible the new go-to Hollywood page-to-screen inspiration? With that Noah trailer teasing us recently with Russell Crowe as the titular character, it sure makes you wonder!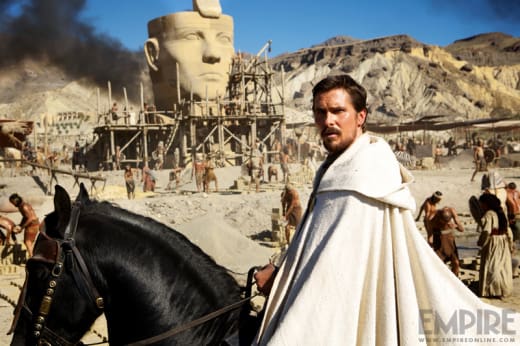 Scott is following up his The Counselor with an entirely different film with Exodus. The man likes to keep audiences guessing as he has released very different films, including Prometheus, in the last several years.
No word on details on Exodus. But, when it comes to the above photo, via Empire, we're guessing it is when Moses has grown up after being put in that basket to float down the Nile where he was adopted by wealthy Egyptian parents. We all know what becomes of him, don't we?!
Exodus hits theaters this time next year, December 5, 2014, and also stars Sigourney Weaver, Ben Kingsley, Aaron Paul, John Turturro and Joel Edgerton.