Forbes Lists Highest Grossing Actors: The Rock Is Cooking
by Joel D Amos at . Updated at . Comments
Last week, we ran the Forbes list of overpaid movie stars, and this week we learn the performers who give studios the most bang for the buck. Leading the list is hardly a surprise… Dwayne "The Rock" Johnson. Between his turn in Fast and Furious 6, G.I. Joe: Retaliation, Snitch and Pain and Gain, The Rock "cooked" up a lot of bank for Hollywood... to the tune of $1.3 billion.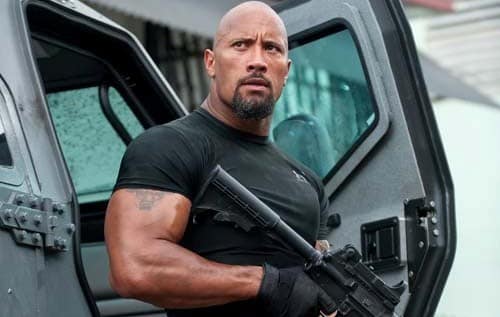 Coming in second with $1.2 billion in ticket sales, largely thanks to his blockbuster that was Iron Man 3, is Robert Downey Jr. Third place belonged to Steve Carell with $964 million, whose Despicable Me 2 was the highest grossing comedy (and animated film) of the year. Fourth place was Johnson's Fast and Furious 6 co-star Vin Diesel, who also had Riddick out in 2013. Diesel brought in a total of $887 million in the year that was.
Closing out the top five is the woman who keeps getting better as the years go by, Sandra Bullock. The Oscar winner is likely to get another nomination this year for her turn in Gravity, and that was not her only blockbuster in 2013. The Heat also banked major bucks, and gave Bullock a total of $862 million in box office gross for the year.
Sadly, in sixth is a man who is no longer with us… Paul Walker. The Fast and Furious 6 star brought in $789 million for studios, but his greatest accomplishment was probably his work on the stunning Hours… which is now in theaters.
Highest grossing actors of 2013:
1. Dwayne Johnson – $1.3 billion
2. Robert Downey Jr. – $1.2 billion
3. Steve Carell – $964 million
4. Vin Diesel – $887 million
5. Sandra Bullock – $862 million
6. Paul Walker – $789 million
7. Billy Crystal – $743 million
8. John Goodman – $743 million
9. Chris Hemsworth – $701 million
10. Jennifer Lawrence – $700 million