Frozen is not only winning the box office, but it is ruling the Oscar buzz for Best Song!
One of the highlights, as we stated in our Frozen review, of Disney's latest film is the sure to be Oscar winner for Best Song, Let it Go, sung by star Idina Menzel. Disney has released the entire song, and scene for that matter, where Menzel belts out the instant classic. The song truly captured the spirit of not only her character, but the emotional feeling at that point in the film.
As seen in the Frozen trailer, Menzel is Elsa and moments after her coronation as queen, her power of turning anything she touches to ice and snow comes out, after years of being able to hide it. It's unfortunate timing, as the entire kingdom now knows her secret. She runs away from the area, not wanting to hurt anyone, and leaves behind her home stuck in an icy curse for eternity. It is after a bit of walking through the tundra that Elsa decides to Let it Go, and a new Disney classic tune is born.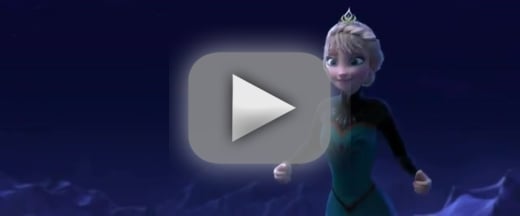 Of course, there might be another song from Frozen that scores a nomination come Academy Awards time and that is Josh Gad's Olaf singing his ode to the joys of summer with In Summer! Check it out and let us know which song you think will earn nods… maybe even both!