Guardians of the Galaxy: Bradley Cooper on "Love" of Rocket Raccoon
by Joel D Amos at . Updated at . Comments
After months of speculation, when it was revealed that James Gunn had cast Bradley Cooper as Rocket Raccoon, fans finally had the voice to go with the image of the wirey character who is part of the superhero conglomerate that is Guardians of the Galaxy. Cooper has been somewhat quiet on the casting, until now. While talking to Collider about American Hustle in New York this past weekend, he finally opened up about becoming the CG-generated superhero.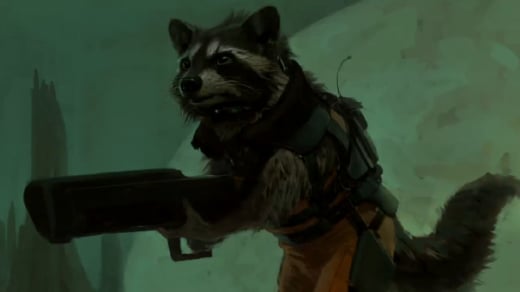 "Well, I like James a lot and it really was about him and then talking to him about the guy. I wasn't familiar with the comic at all and then I really loved it. And I love that character," Cooper said. "He's incredible, that character. You know, one thing we debated was he's seen as a cockney accent sometimes. So we talked about whether we'd do that or do this sort of other guy from the city a little bit."
The American Hustle star also has seen footage from Guardians of the Galaxy and revealed that he is completely in awe of what has been accomplished by its cast.
"Chris Pratt is unbelievable and Zoe (Saldana) is great, she's always great," said her co-star from The Words. "Chris Pratt just blew me away. I thought he's just like the perfect guy." 
Guardians of the Galaxy hits theaters August 1, 2014 and also stars Dave Bautista, Michael Rooker, Benicio Del Toro, Djimon Honsou, Glenn Close and John C. Reilly.