Guardians of the Galaxy: It's Official, Vin Diesel Is Groot
by Joel D Amos at . Updated at . Comments
Marvel Studios has confirmed what we kind of already knew… that Vin Diesel is the voice of Groot in Guardians of the Galaxy. In fact, director James Gunn has been recording Diesel in the studio and posted a photo of the superstar posing next to his screen likeness.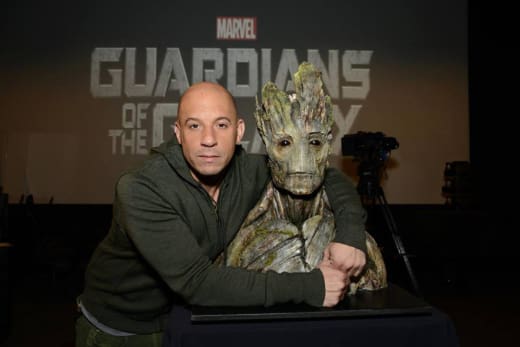 Marvel released a press release, formally announcing the casting. "Vin Diesel is Groot! The star of the Fast and the Furious and Riddick franchises will lend his voice to Groot in Marvel's live-action Guardians of the Galaxy, rounding out the team that includes Star-Lord (Chris Pratt), Rocket Raccoon (Bradley Cooper), Gamora (Zoe Saldana) and Drax (Dave Bautista)," the statement read.  
"Diesel's received great acclaim for his voice work in the celebrated animated film The Iron Giant."
Along with the above photo, Gunn also posted the following about his session with Diesel. Clearly, the director treasured his pre-holiday moments with the action hero. 
"Yep, it is completely official. AND he's amazing," Gunn said. "I never knew someone who could say I AM GROOT so many different ways and with such feeling (and that sounds like I'm kidding but I'm not!"
Guardians of the Galaxy storms its way into theaters August 1, 2014.