Horrible Bosses 2: First Photo of Jason Sudeikis, Charlie Day & Jason Bateman!
by Joel D Amos at . Comments
The first photo from Horrible Bosses 2 has landed! It features stars from the first Horrible Bosses -- Jason Sudeikis, Jason Bateman and Charlie Day. There was a big question as to how the sequel would work and how on Earth these three guys could have such horrible bosses… again!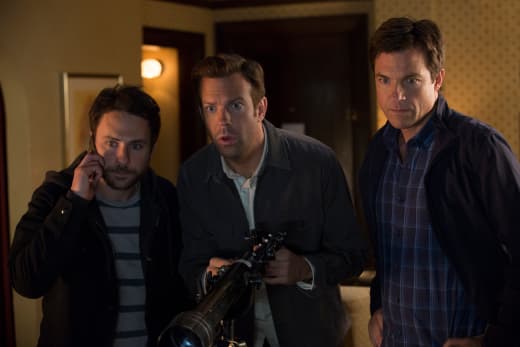 Now we know that Nick, Dale and Kurt have had it with answering to idiots above them and have decided to start their own business. Judging by the photo above, could it be a private investigation firm?
But, when a "slick" investor pulls the financial rug out from underneath them, they go back into revenge mode that they did so well in the first film. The three of them kidnap the investor's son and hold him for ransom to retake the reins of their business.
Look for Horrible Bosses 2 in theaters November 26, 2014.