Hours is an extraordinarily powerful film, and that isn't even because of the weight it has being one of the last films completed by Paul Walker. It is Walker's performance and the subject matter that makes Hours haunting and unforgettable.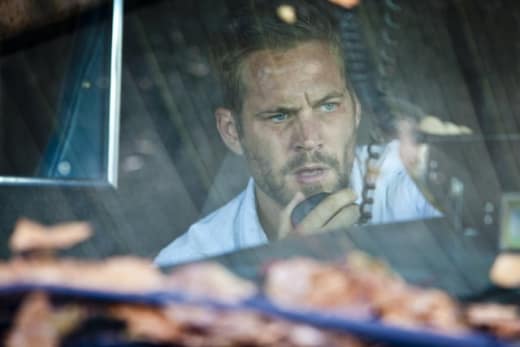 Walker plays Nolan Hayes, who's married to Genesis Rodriguez's Abigail, and as the television news reports remind us, there's a horrible hurricane named Katrina heading right for their hometown of New Orleans. Abigail is also about to go into labor. They get to the hospital, just as all hell breaks loose on many levels. Abigail has major pregnancy complications -- she is not due for over a month -- and Katrina hits with full force. Nolan is taken away from his wife while they take her to the operating room and left in a waiting room where everyone is watching the TV, but him.
As the rain starts to come down like something out of the story of Noah, a wind gush shatters the waiting room windows and everyone is taken upstairs. It is there that Walker has to paint the most tragic performance of his career. Abigail has lost her life, and their baby girl is born premature.
Walker has his character respond in the most unpredictable ways, mirroring the raging weather inferno swirling outside. Writer-director Eric Heisserer uses television news reports to shed light on a landscape that is about to experience never-before-seen horror, all while his lead actor goes through the entire spectrum of emotion and digs deeper than he ever has before in his career.
As hauntingly teased in the Hours trailer, Nolan's baby is put on a breathing machine and incubator and he and his new girl wait… and wait. He is processing so much right now and it all shows in Walker's face and even through to his very physical core. Abruptly, the storm goes from horrible to utter hell. Everyone is told to evacuate, but Nolan can't. News has arrived: The city's levees have broken. The entire hospital staff leaves with patients to safety. One nurse promises to come back, but Nolan is all alone. Just him… a beeping monitor that shows his baby clinging to life. And then the power goes off. He finds a generator, but it is broken and he must manually wind it every two and a half minutes.
When help is coming, as we know from the history of Katrina, no one there knows.
Walker and Heisserer have combined to make a film that captures the horror of the Katrina chapter in a great city's history. The good, the bad and the ugly are all on display. And in the eye of the storm is a talented actor who was taken from us all too soon. When the news hit that Paul Walker died, this film became even more important than Movie Fanatic already felt it was.
New Orleans gets a tribute in the form of portraying the city as one of resilience, embodied by the character of Nolan and that little baby who refuses to quit. But our Hours review finds that it is an uncanny tribute to the talent and power of an actor who loved his Fast and Furious movies, but also had a kind spirit and the talent to tackle a role where he spends much of the film in solitude. Not every actor can achieve that. Not every actor dares try that. Walker does, and shows his courage and tenacity, and firmly leaves his mark in movie history.