How Will Paul Walker's Death Affect Fast and Furious 7?
by Joel D Amos at . Updated at . Comments
Given that Paul Walker died in a terrible car crash, the question this Monday morning that is on everyone's minds is: How can production on Fast and Furious 7 continue? Given that the series is based on cars driving at insane speeds and that is the exact way its star perished, is it possible that the film can be completed? And the bigger question is… should it?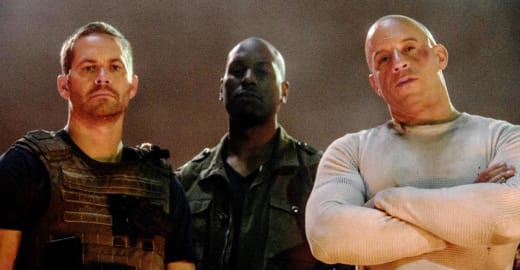 Fast and Furious 7 was about halfway completed when Walker died in a fiery car crash in Southern California. In fact, a majority of the scenes set to be filmed this week in Georgia were to involve the late star. Clearly the news that production has been delayed is not a surprise. His co-stars from Vin Diesel to Dwayne Johnson and Tyrese Gibson are way too distraught this morning to report to work, much less on a project that embodies the way that Walker died.
Yesterday, Universal Studios and filmmakers, including director James Wan, held a conference call to discuss the fate of their project. No news has arisen for the public from that meeting. But, we can guess that at least in the short term… Fast and Furious 7 is on hold.
Currently, Fast and Furious 7 is set to be released on July 11, 2014. That is still on the calendar, although it is Movie Fanatic's opinion that given how filming has to be delayed, we won't see the film until much later. There is no way that anyone involved in this production has the mental capacity to get behind the wheel of a car and make a movie that celebrates the art of driving fast.
It is truly heartbreaking on so many levels. Walker even recently told us about his excitement with Kurt Russell joining the series and how eager he was for audiences to see the legendary film actor work his magic in the Fast and Furious franchise.
As news arises, Movie Fanatic will bring you the latest. But for now, all we can do is mourn and think about the films Walker did leave us with. You can even vote now and let us know… which Paul Walker movie is your favorite?