We found The Wolf of Wall Street one of the Top 10 Movies of 2013, but some others have questioned the movie for how it depicts the criminal rise of Wall Street financier Jordan Belfort. It was a highly successful run for Belfort that banked the real life character that Leonardo DiCaprio portrayed hundreds of millions of dollars.
But, it also got him some serious jail time. At a recent screening for Oscar voters, rumor has it that an attendee confronted director Martin Scorsese for his "glorifying criminal activity." First of all, if the man stopped filming people who committed crimes, his filmography would be quite light!
But, if you also think that The Wolf of Wall Street puts DiCaprio and his cohorts on a pedestal, you are not watching the same movie we did. And the star certainly agrees. "I think anyone who thinks [that the film glorifies excess] missed the boat entirely," DiCaprio told HitFix.
"I grew up in a generation of watching [Scorsese]'s movies and when you come from a standpoint of being someone who is so influenced by him and De Niro's work, to hear specific reactions they had to films that, now, as the years roll by -- we're all desensitized to those things, you know what I'm saying? I'm not saying people should particularly praise this film for that reason, but I think it takes a while to permeate into the culture a little bit."
In fact, DiCaprio (and we agree) believes that when all is said and done, history will record Scorsese as one of the best, if not the best, to ever wield a camera.
"I mean, I listened to stories of The Last Temptation of Christ. I listened to stories of Goodfellas and Taxi Driver and even Mean Streets, but to me they're a classic part of American cinema history that have influenced so many other filmmakers and so many other genres. It's insane."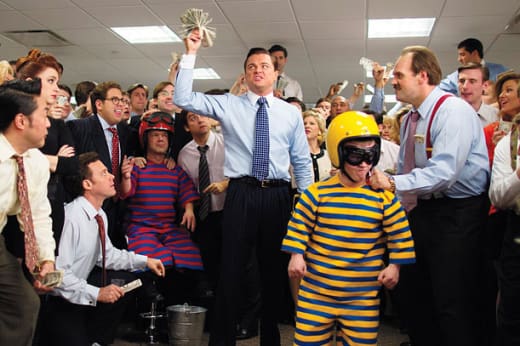 At the end of the day, Scorsese is merely putting a mirror up to these people. After all, Henry Hill in Goodfellas was a real person, and so too is Belfort. "Yes, the unique thing about Marty is that he doesn't judge his characters," DiCaprio said.
"And that was something that you don't quite understand while you're making the movie, but he allows the freedom of this almost hypnotic, drug-infused, wild ride that these characters go on. And he allows you, as an audience -- guilty or not -- to enjoy that ride without judging who these people are. Because, to me, this attitude of what these characters represent in this film is ultimately everything that's wrong with the world we live in."