Mary Poppins Blu-Ray Review: Celebrating Fifty Years of Disney Brilliance
by Joel D Amos at . Updated at . Comments
A classic among classics, Mary Poppins, has arrived on Blu-Ray for the first time, and Julie Andrews' titular character has never sounded or looked so good.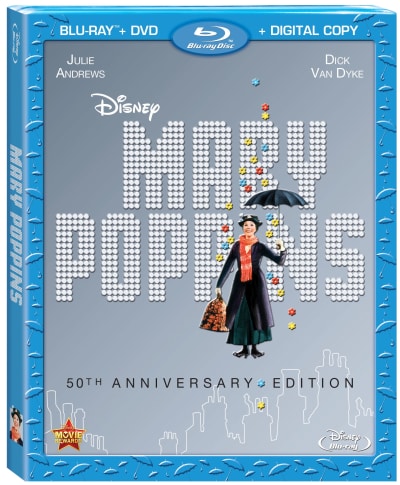 It's kind of a Mary Poppins year as Saving Mr. Banks tells the story of the making of Mary Poppins and the effort that Walt Disney had to undertake to get author P.L. Travers to allow him to make the movie. That film is out in limited release now and will open everywhere this Friday. It is also the 50th anniversary of the theatrical release of Mary Poppins, and that is why Walt Disney has opened their vaults and released the Mary Poppins Fiftieth Anniversary Edition Blu-Ray.
Dick Van Dyke stars, and his co-star Andrews won an Oscar for her role of the nanny who, as you learn from the Tom Hanks movie, is integral to Saving Mr. Banks. The Mary Poppins Blu-Ray features the film itself in a stunning Blu-Ray upgrade, with both sound and sight completely mind-blowing awesome.
In a fabulous tie-in with the film Saving Mr. Banks and its looking at how the Sherman brothers came up with the iconic score, the Mary Poppins Blu-Ray bonus feature Mary-OKE's showcase how the duo came up with and celebrates some of their best songs including Step In Time, Spoon Full of Sugar, Supercalifragilisticexpialidocious and Chim Chim Cher-ee. The addition of animated words that display onscreen in this feature, allowing the viewer (and family!) to sing along with the timeless tracks, is priceless.
The Becoming Mr. Sherman features the man who plays Richard Sherman in Saving Mr. Banks, Jason Schwartzman, in a sit down chat with the man himself. The bonus feature is a terrific look inside the magic that made movie music magic. Hearing Sherman share some classic Hollywood tales is heartwarming and quite revealing. Sherman also gives some incredible insight into the mind of Walt Disney himself. That featurette also includes insight from Tom Hanks and Emma Thompson, stars of Saving Mr. Banks.
There's a heart to Mary Poppins that would explain in many ways why Saving Mr. Banks works on so many levels (check out our Saving Mr. Banks review). Seeing it again for the first time in a while, we were struck by not only the stunning upgrade in sound and picture, but the timeless quality of the film itself. Mary Poppins is a film that can be witnessed over and over and over and time does nothing to decrease its resonance. Owning the Mary Poppins Fiftieth Anniversary Edition Blu-Ray is a must have for fans of the film, movie appreciators, Disney aficionados and frankly, anyone who appreciates incredible filmmaking at the highest levels of excellence.