Matilda is making its Blu-Ray debut and it could not be a more perfect gift for the family movie fans out there. The film, based on the classic children's book by Roald Dahl, is directed by and stars Danny DeVito, and introduced the world to the little joy that is Mara Wilson as the title character.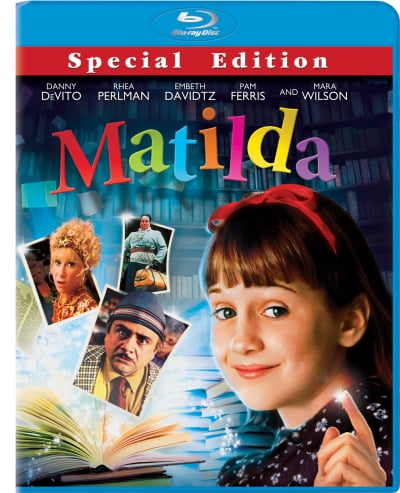 As teased in the Matilda trailer, DeVito and Rhea Perlman star as Matilda's parents who, to quote that famous Will Smith song, just don't understand. They don't exactly treat Matilda badly -- they are just not the most loving guardians out there. Toss in the fact that her brother is less than kind and her principal (Pam Ferris) is downright evil and Matilda finds that the deck is stacked against her. But, she perseveres with the help of her best friend and a teacher (Embeth Davidtz), who helps Matilda discover her inner strength -- that includes telekinetic powers -- that have her finding that she doesn't have to resort to being mad to get even.
The film is so clearly from the mind that gave us James and the Giant Peach and Charlie and the Chocolate Factory and impeccably captures the innocent joys of youth. To see it again on the highest definition picture and sound possible is pure joy. And for kids who have yet to see the magic of Matilda, this is the perfect time to show her off.
There is one new bonus feature that is quite the surprise and a must-see for those who have adored the film for decades. Afternoon Tea, A Very Magical Matilda Reunion is a reunion of the entire cast over the titular beverage. The get-together took place at DeVito's home, and the insight provided into the filming of the movie is uncanny. What also is great to witness is how the cast interacts -- even all these years later, they still have perfect chemistry, and it is easy to see how the film became an instant classic.
The Matilda Blu-Ray also includes four previously released featurettes, Matilda's Movie Magic, A Children's Guide to Good Manners, Escape to the Library and My Movie About Making Matilda by Mara Wilson.