Million Dollar Arm Trailer: Jon Hamm Searches for Baseball's Next Great
by Joel D Amos at . Comments
From the people who brought us Invisible and Miracle comes another incredible true sports story starring Jon Hamm (The Town) as a sports agent who heads to India in search of the next great baseball pitcher. The trailer for Million Dollar Arm has landed, as well as the poster, and it also features Oscar winner Alan Arkin, Bill Paxton and Lake Bell.
Million Dollar Arm is based on the true story of JB Bernstein (Hamm), who is on the verge of being obsolete as a sports agent as the young upstarts pass him by. After watching cricket from India on TV one late night, he gets a crazy idea. He heads to the country with a perceived washed-up scout (Arkin) and launches a televised national search for what he calls the "Million Dollar Arm."
Over 40,000 potential baseball pitchers, former cricket athletes, show up… and Bernstein hopes to bring two of them back to the States to study with a legendary pitching coach (Paxton) in an effort to make them the game's next big thing.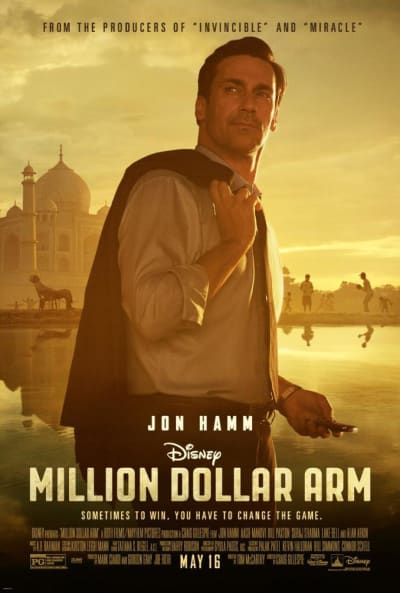 Million Dollar Arm lands in theaters May 16, 2014.