The Need for Speed trailer has been released, and now we finally have the first official Need for Speed poster. Usually, it's the other way around, but in this case, we'll take it as the film is one that has to be seen visually before it can be teased artistically.
Director Scott Waugh is a former stuntman, and as such he shot his entire film using practical stunts with real people driving real cars. We've seen 30 minutes of footage and it is uncanny and will revolutionize the way we see car racing scenes in the future.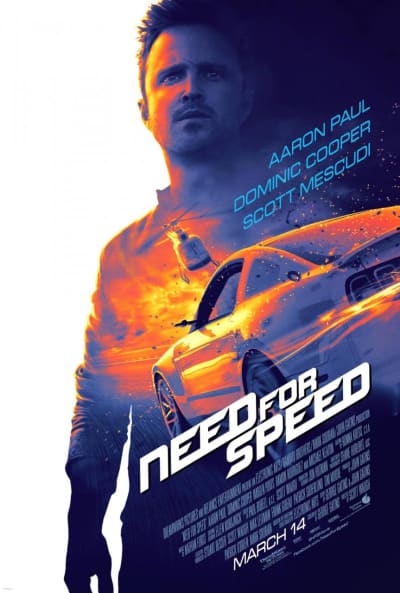 Aaron Paul is a man who is wrongly charged with the death of his friend. The real culprit, played by Dominic Cooper, will get his when Paul gets out of jail and finds him for justice. In order to get him, he needs to cross the country in the fastest car possible (as a parolee he can't leave the state… so airplanes are out!). Thus, there is our Need for Speed.
Need for Speed recalls the classic 1960s and 1970s car movies like Steve McQueen's Bullitt (featured as one of our Top 10 Movie Car Chases).
Get ready to race when Need for Speed lands March 14, 2014.