Percy Jackson Sea of Monsters DVD Review: Logan Lerman Learns His Fate
by Joel D Amos at . Updated at . Comments
The sequel to Percy Jackson and the Olympians: The Lightning Thief has brought the magical adventure home on DVD and Blu-Ray. Percy Jackson: Sea of Monsters should feature our titular hero more at home than ever given that the battle has taken to the seas. The son of Poseidon would be ready for that, no? Well, not entirely as he is suffering from what can be described as being fearful of going down in history as a one quest wonder after his triumph in the first film.
As teased in the Percy Jackson: Sea of Monsters trailer, the action starts at Camp Half-Blood and we learn about a gifted child who gave her life to protect the facility and the magical tree that stands where she fell that forever protects the home for the half human-half gods who come there to further their supernatural crafts. That is important because before long, our heroes are challenged by an evil force that threatens the tree, and the safety of all those who live in the camp.
Our theatrical Percy Jackson: Sea of Monsters review found the film a tad childish, which actually is a good thing given the target audience for this fantasy film. Logan Lerman has grown as an actor since the first film, what with his stellar turn in The Perks of Being a Wallflower. His Percy Jackson may be unsure of himself, but as characterized by Lerman, you can see the seeds of a return to greatness.
For fans of the series, this is a worthy continuation and they are the ones who will get the most joy out of the bonus features. The highlight for appreciators of all things Percy Jackson will be the Tyson Motion Comic which gives our hero an illustrated journey that should thrill. The collectible character cards are also firmly aimed at that passionate fan base.
When it comes to video featurettes, the Back to Camp Half-Blood is the most compelling. It shows the cast and crew returning to a series that they clearly love which is on display as they get to work on a much anticipated sequel. It's All in the Eye is an interesting addition as it profiles a new-to-the-series character who is a Cyclops named Tyson (Douglas Smith)!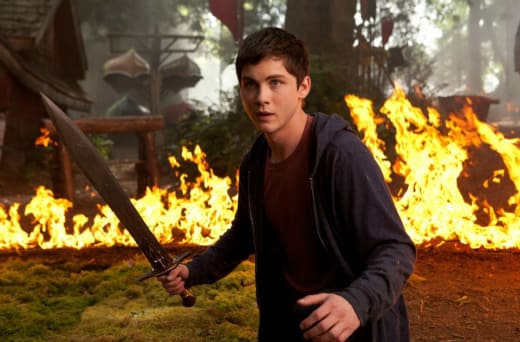 And we appreciate the Deconstructing a Demigod featurette in that any chance to provide an educational background to a piece of entertainment is a good thing. Growing up, we had a passion for mythology, and those who follow this series probably do as well, it's safe to say. So, to be able to explore that on the Percy Jackson: Sea of Monsters DVD and Blu-Ray is a nice touch.