The Library of Congress has announced its annual list of 25 films joining the National Film Registry and they include a Quentin Tarantino classic, a Walt Disney musical standard and the film that chronicled America's race to space.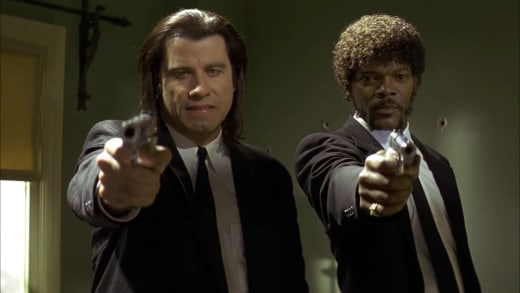 Pulp Fiction, Mary Poppins and The Right Stuff took their rightful place at the Library of Congress among films that represent the cinematic culture of the United States of America.
The Librarian of Congress, James H. Billington, said in a statement, "The National Film Registry stands among the finest summations of more than a century of extraordinary American cinema. This key component of American cultural history, however, is endangered, so we must protect the nation's matchless film heritage and cinematic creativity."
The Magnificent Seven also joined the list, along with Forbidden Planet, The Quiet Man and Roger and Me.
On Pulp Fiction, Billington said, "By turns utterly derivative and audaciously original, Quentin Tarantino's mordantly wicked Möbius strip of a movie influenced a generation of filmmakers and stands as a milestone in the evolution of independent cinema in the United States, making it one of the few films on the National Film Registry as notable for its lasting impact on the film industry as its considerable artistic merits."
And as for The Right Stuff, it was an astonishing achievement that filmmakers were able to condense Tom Wolfe's rich history of the U.S. space program, and clearly Billington agreed.
"At three hours and 13 minutes, Philip Kaufman's adaptation of Tom Wolfe's novel is an epic right out of the Golden Age of Hollywood, but thanks to its assortment of characters and human drama, it rarely drag," Billington said. "Director/screenwriter Kaufman ambitiously attempts to boldly go where few epics had gone before as he recounts the nascent Space Age. He takes elements of the traditional Western, mashes them up with sophisticated satire and peppers the concoction with the occasional subversive joke."
The full list of movies added to the Library of Congress for preservation in 2013:
Bless Their Little Hearts (1984)
Brandy in the Wilderness (1969)
Cicero March (1966)
Daughter of Dawn (1920)
Decasia (2002)
Ella Cinders (1926)
Forbidden Planet (1956)
Gilda (1946)
The Hole (1962)
Judgment at Nuremberg (1961)
King of Jazz (1930)
The Lunch Date (1989)
The Magnificent Seven (1960)
Martha Graham Early Dance film (1931-44)
Mary Poppins (1964)
Men & Dust (1940)
Midnight (1939)
Notes on the Port of St. Francis (1951)
Pulp Fiction (1994)
The Quiet Man (1952)
The Right Stuff (1983)
Roger & Me (1989)
A Virtuous Vamp (1919)
Who's Afraid of Virginia Woolf (1966)
Wild Boys of the Road (1933)