Saving Mr. Banks: Colin Farrell on What Making-of Movie He Wants to See
by Joel D Amos at . Updated at . Comments
Colin Farrell has a tricky, but ultimately rewarding job in Saving Mr. Banks. As seen in the Saving Mr. Banks trailer, he plays the father of P.L. Travers (author of Mary Poppins) and ultimately proves to be the inspiration for the Tom Hanks-starring Disney film and the heart of the Mary Poppins story itself.
"P.L. Travers, as fictionalists and artists sometimes can do, through the convention of drama was trying to right the wrongs of her childhood and her past," Farrell said.
We met Farrell for an exclusive video interview from the famed Walt Disney studio lot in Burbank and the actor admitted that he didn't necessarily recall his first Mary Poppins memory, but has seen the movie again readying for the role.
"It was extraordinary. It's an amazing, amazing film," Farrell said.
As Saving Mr. Banks chronicles what it took to bring Mary Poppins to the big screen, we asked Farrell what classic movie he'd like to see a film about the making of. His answer… might surprise!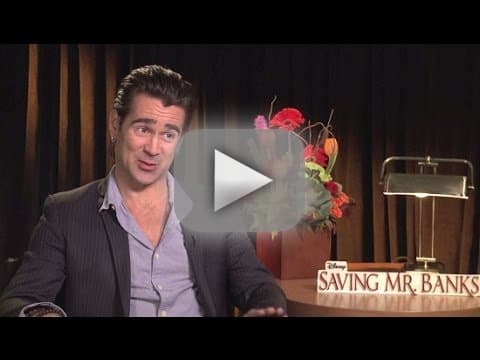 Check out our Saving Mr. Banks review, with the film expanding nationwide December 20.