The Amazing Spider-Man 2 Triptych Poster: Is That Green Goblin?
by Joel D Amos at . Updated at . Comments
The Amazing Spider-Man 2 trailer will land on Thursday, and in the meantime, Columbia Pictures has us seriously thinking about the next chapter in the series from director Marc Webb. They have premiered a "Triptych" poster that features Spider-Man ready to defend himself (and the city) from a trio of villains. Wait, what?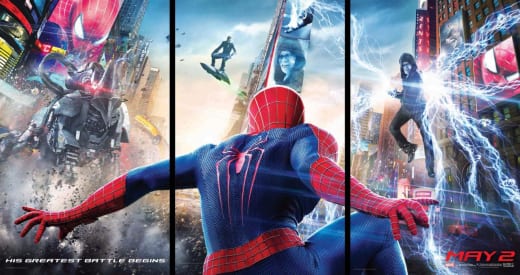 Look closely and you will see two we already know about, Jamie Foxx as Electro and Paul Giamatti as Rhino. But, who is that in the middle? Is that Green Goblin? Yes sir, and it looks like Dane DeHaan as Green Goblin no less.
Guess the anticipation level for that Thursday trailer debut for The Amazing Spider-Man 2 has just gone nuclear!
The Amazing Spider-Man 2 lands in theaters May 2.