The Family has come home on DVD and Blu-Ray and features Robert De Niro returning to the mob in an action comedy from acclaimed director Luc Besson (The Fifth Element, The Professional).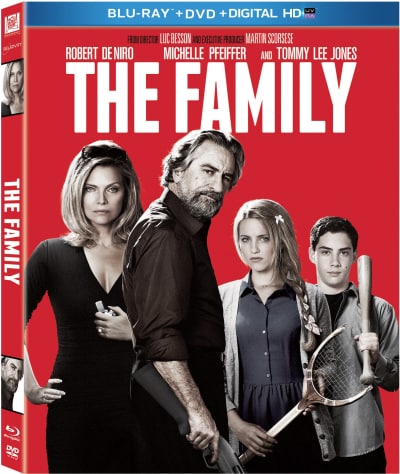 As seen in The Family trailer, De Niro is a former mobster who is stuck in the witness protection program. When the film commences, he and his wife (Michelle Pfeiffer), daughter (Dianna Agron) and son (John D'Leo) have gotten into some trouble in the south of France where Federal Marshall Robert Stansfield (Tommy Lee Jones) has placed them. They move to Normandy and Stansfield hopes the family can finally lead a somewhat normal life while De Niro's former business associates can't find him and kill him and his kin.
Our theatrical The Family review found the film great fun, and De Niro in particular has a blast as a mob character unlike any he's ever played prior. His mobster has dreams of being an author, and even breaks out an old typewriter with hopes of penning his memoirs. Of course, Stansfield knows that will only further enrage the mobsters he is trying to protect him from.
Director Besson too has a ball with the format and effortlessly mixes action with comedy in the darkest of ways that makes the film feel more French than Hollywood, and that is a very good thing. See, you can take The Family out of the mob, but it seems you can't take the mob out of The Family!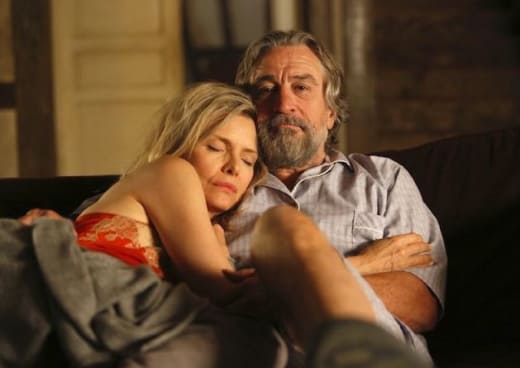 When it comes to bonus features on The Family DVD and Blu-Ray, there aren't that many. But, what is included is fascinating. The Making of The Family featurette is a treat witnessing Besson and his game-for-anything cast have a literal blast making their dark comedy in the filmmaker's home country. The interviews with the ensemble are a treat, particularly with Pfeiffer who takes special delight in her first mob wife role since she was Married to the Mob.
The best bonus feature by far chronicles De Niro and his character's many ways of using the expletive that starts with the letter "F." The Many Meanings of FU*%! not only features dozens of De Niro utterings of the phrase, but has his castmates chiming in on what it is about the actor that he is so good at saying the naughty word. Of course, audiences know that De Niro has made a career of uttering the word, yet no one has ever put it into context as this brilliant bonus feature does.
The Family DVD and Blu-Ray is one to get for the joy of watching the movie itself. We find it lacking without a director's commentary as this film is pure Besson -- it would have been a nice addition. But even without a bevy of bonus features, The Family is one clan we wouldn't mind having over for the holidays.