The Hobbit The Desolation of Smaug Holds Back Anchorman 2: Weekend Box Office Report
by Joel D Amos at . Updated at . Comments
The Hobbit: The Desolation of Smaug bucked the naysayers who felt that Anchorman 2 would win the box office battle this past weekend. The second The Hobbit movie banked $31.5 million to Anchorman 2's $26.8 million. In its two week run atop the box office charts, The Hobbit: The Desolation of Smaug has earned an impressive $127.5 million.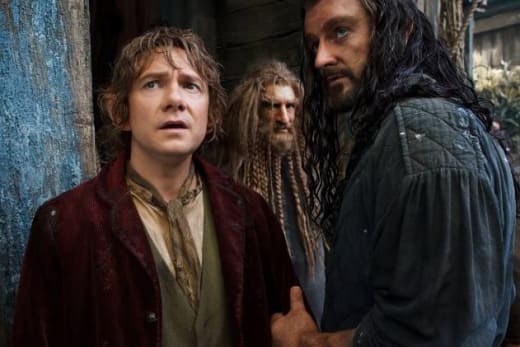 Disney's Frozen kept up its impressive pace landing in third place. The animated film banked $19.2 million in its fifth week of release, bringing its total to $191.6 million. Fourth place belonged to American Hustle. The all-star-cast story of the real life Abscam scandal of the 1970s from David O. Russell debuted on the national stage with $19.1 million.
Closing out the top five is Disney's tale of how Mary Poppins came to be, Saving Mr. Banks. The Tom Hanks-Emma Thompson-starring true story earned $9.3 million in its first true week of nationwide release.
The surprise entry in the box office top 10 was the number nine arrival of the Bollywood film Dhoom 3. The revenge thriller banked $3.3 million in its first week of release, and in only 236 theaters!
Box Office Top 10:
1. The Hobbit: The Desolation of Smaug, $31.5 million
2. Anchorman 2: The Legend Continues, $26.8 million
3. Frozen, $19.2 million
4. American Hustle, $19.1 million
5. Saving Mr. Banks, $9.3 million
6. The Hunger Games: Catching Fire, $8.8 million
7. Tyler Perry's A Madea Christmas, $8.5 million
8. Walking with Dinosaurs 3D, $7.3 million
9. Dhoom 3, $3.3 million
10. Thor: The Dark World, $1.3 million