The Invisible Woman: Felicity Jones Says Charles Dickens "Understands Human Nature"
by Joel D Amos at . Updated at . Comments
Felicity Jones met Movie Fanatic for an exclusive video interview where the star of The Invisible Woman talks about her co-star and director, Ralph Fiennes. Fiennes plays iconic author Charles Dickens, and the story, shown in The Invisible Woman trailer, follows the little known affair between Jones' Nelly and the famed writer. We wondered what is so special about Fiennes… the director?
"It was the first time I worked with someone who was an actor-director," Jones admitted. "It was very intense!"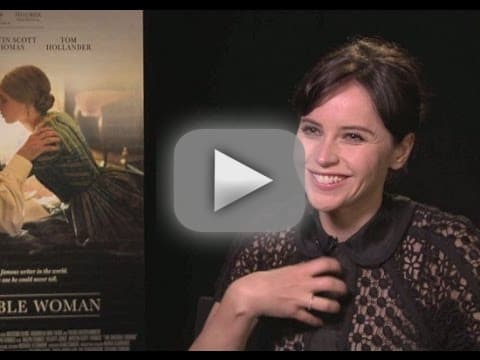 Jones also has a unique position to let us know what it is about Dickens that the man remains one of the most popular authors of all time.
"He understands human nature," Jones said. "When you read his books, you recognize those character traits that you see in people around you."
We also wondered what her favorite Dickens work was… her answer is one that is shared by millions!